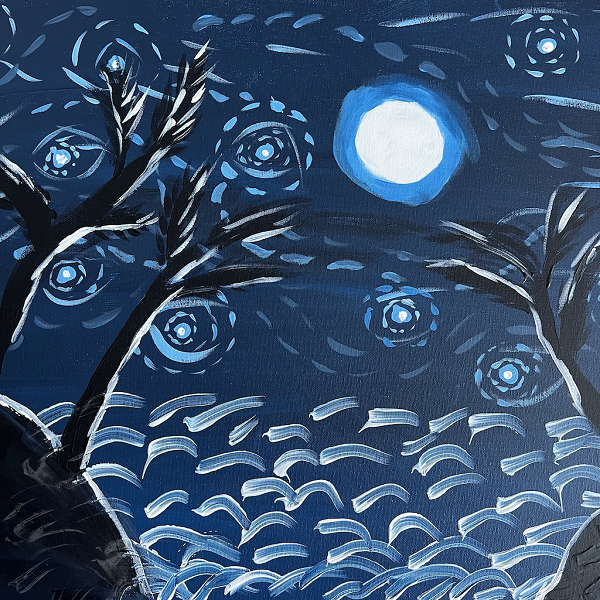 A stylistically versatile EP with heartfelt lyrical introspection, Born In Grief is a strong showing from Wendy Mui, who wrote and produced the EP with Sinclair. "When my wife died, I was devastated. I wrote the lyrics during a period of deep grief," Mui explains. "My words were turned into songs by Sinclair. I released Born In Grief (EP) with hope that the world will remember the one taken is loved."
EP opener "That's Marta" struts a debonair rock charm — representing Marta's favorite genre. The title-touting proclamation resonates with melodic appeal through the one-minute turn, traversing seamlessly back into the conversational verses. The momentum and melodic appeal is palpable throughout. The subsequent "At The Altar" exudes a lusher '80s nostalgia, weaving twangy guitars with yearning vocals amidst lyrical outpourings depicting emotional pain; its hooky "good morning," salutations is particularly replay-inducing.
The moody "Make It Go Away" captivates as the EP's mid-point, revealing a downtempo charm with the melancholic piano and "pour me another," vocal pleadings. There's a trip-hop rhythmic touch, with the pitch-alternating "take my pain away," hook sending chills. Closing the release, a hip-hop ferocity — observing the pain of grief — enamors on "New ATM," cementing the artist's standout versatility amidst a consistently melodic enthrallment and personal thematic focus.
—
"That's Marta" and other tracks featured this month can be streamed on the updating Obscure Sound's 'Best of October 2023' Spotify playlist.
We discovered this release via MusoSoup, as part of the artist's promotional campaign.