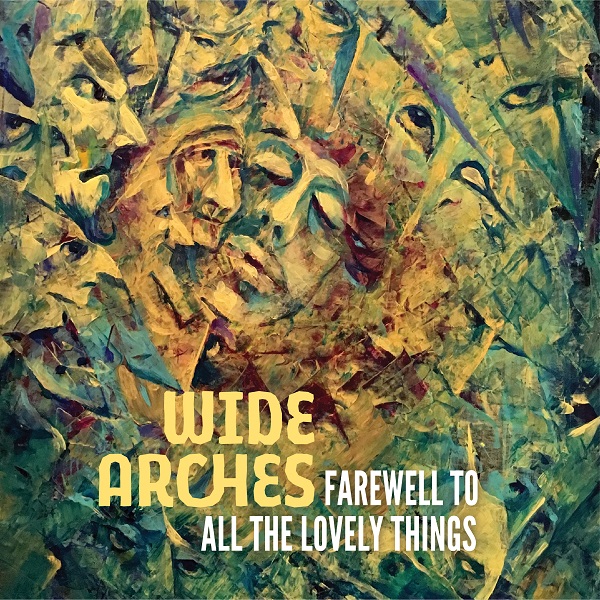 An album touting an abundance of captivating folk songwriting, Farewell to All the Lovely Things is the debut album from Wide Arches, the project of Juno-nominated multi-instrumentalist and composer Jacob Gorzhaltsan. Melodically caressing arrangements, with acoustics and strings a driving force, complement a poetic lyrical prowess — holding a particular emphasis on the day-to-day things in life that both easily break and make you smile, as conveyed in the gorgeous "Ballerina."
Trickling guitars, somber strings, and dual-vocal suaveness stir on the opening "Sadness Wears Her Prettiest Dress," a heartrending effort depicting the complex and unpredictable emergences of melancholy. "Sadness doesn't have a lining — silver, gold, or copper bronze," they let out. "It's not worth even describing your quiet nights and lonely dawns." The vocals play with meditative insight, ruminating on the deep impact of sadness alongside the steady acoustics and strings — culminating in gorgeous, wordless harmonizing to close things out.
Following the emotive opener, "Pictures in the Sand" cohesively struts a minimalist folk flair to start. "The places that you've been," the vocal lead is complemented by a reflective backing, followed shortly thereafter by patiently unfolding strings. Although more understated than "Sadness Wears Her Prettiest Dress," "Pictures in the Sand" resonates with similarly introspective musings, centering around a yearning "just to find what you once had," — emitting a sort of mourning regret and hoping for an uplifting of one's spirit. The album's opening two entries resonate in portraying the complexities of human emotion, focusing in particular on melancholy, regret, and looking forward.
The balmy "Lake Scene" lyrically references "summer rain falls slowly," — and such a setting is grippingly conveyed via the hypnotic dual-vocal movement, mystique-filled guitar lines, and woodwind adornments. While heartbreak appears thematically and audibly in the opening tracks, "Lake Scene" shifts to a more nostalgic, darker tint. The ensuing "Butterfly" is in a similarly compelling vein, resembling the barroom haunts of Nick Cave in its ghostly fusing of strings and jumpy guitars.
"No need to put on a happy face, no one in this life ever finished the race," the duet emits on "Fake Smiles, Artificial Laughs," a snarling societal commentary — particularly at those who hide their real intentions behind a façade — with plucky strings and creeping woodwinds. In an age where social media and fake personalities run amok for monetary pursuits, the track proves particularly poignant — "we all act honest and lie through our teeth," the vocals punctuate at the gripping track's mid-point.
From the cinematic orchestral-laden folk of "Grass Beneath Your Feet" and graceful lushness of "Ballerina" to the harmonious vocal layering within the touching finale "Wasting Away," the remainder of Farewell to All the Lovely Things continues captivating with honest perspectives on society and emotions, captured with gentle yet captivating immersion in its day-to-day intimacy.
Be sure to check out the band live on November 21st at Burdock Music Hall, with Good Fortune.