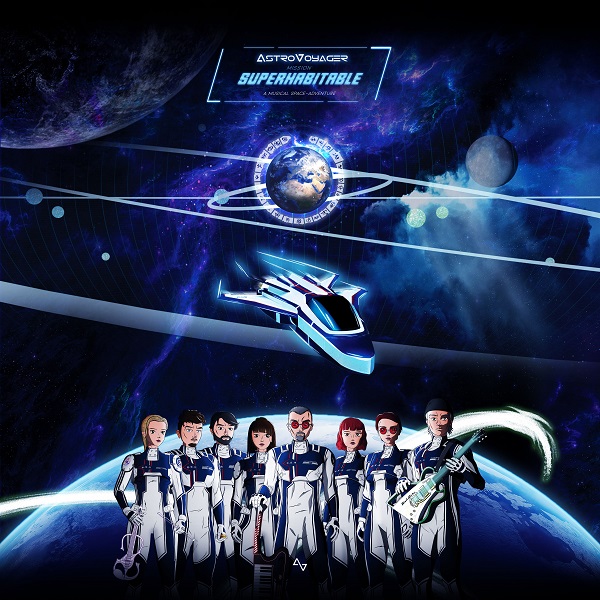 A creative conceptual project from French composer and producer AstroVoyager, Mission SuperHabitable comprises an artful universe that inhabits the audible and visual realms. The 24 songs present a grippingly eclectic journey, from the impassioned '80s-touched pop theatrics of "Run Away" to the operatic cinematics within "Breathe in Earth" and the riveting electronic soundscape presented in "Escape from Earth." The electro-symphonic production proves riveting and melodic throughout.
Mission SuperHabitable is presented in various phases, beginning with the release of SuperHabitable – Phase 1 – Are we alone? on November 23rd. Most of the tracks are available to stream right now on Bandcamp, alongside their visual accompaniments (click 'Video' next to the track name). "Escape from Earth" kicks it off in savvy form, presenting a Chromatics-esque guitar/synth interplay, alongside a video with glimpses of futuristic aviation.
Bolstering this creative project are collaborations with several talented groups. One is The Prague Concert Philharmonic, who have been working alongside AstroVoyager since 2014. The group has over 150 members, whose talents meld with the electronic and symphonic fusing presented from AstroVoyager (whose real name is Philippe Fagnoni).
Also playing a vital role in the successful creative experience is YAK PROD, a 3D production studio responsible for creating the album's visual universe. Their beautiful art and animation is inspired heavily by sci-fi and '80s Japanese animation, and the result is a riveting visual accompaniment to AstroVoyager's atmospheric music production. Also in the works for the album's visual treatment is a light-drone show, helmed by French specialists, in addition to a VR experience that simulates hopping aboard a spaceship, in the quest for a SuperHabitable planet.
An online premiere for the project's full anime feature will take place on November 16th, via a Bandcamp live stream.
The production and songwriting on Mission SuperHabitable resonates with eclectic captivation, intertwining synths, strings, guitars, and beyond with a genre-hopping enamoring — spanning from pop to opera. Two pop singers, an opera singer, and electro-violin soloist have joined the project, furthering its colorful, dynamic reach.
Highlights are numerous on the album. "Now You Can Fly" compels with its gorgeous vocal soaring, evolving into a synth-pop eeriness with a lush synth pad and buzzing bass movements. Trickling keys and ghostly vocal chills add further to the enticing immersion, as twinkling keys and strings coalesce for a replay-inducing pull. "Childhood Goes By" is a moving success as well, as delicate piano and heart-tugging strings lead a classical-mind piece of gorgeous balladry.
Mission SuperHabitable is a comprehensively satiating artistic experience from AstroVoyager, melding the audible and visual worlds within an album that invigorates in its stylistic range and knack for melody. The thematic concept — transforming the yearning for a better world into spacefaring "in search of a SuperHabitable exoplanet" — proves apt and moving within the all-encompassing delivery.