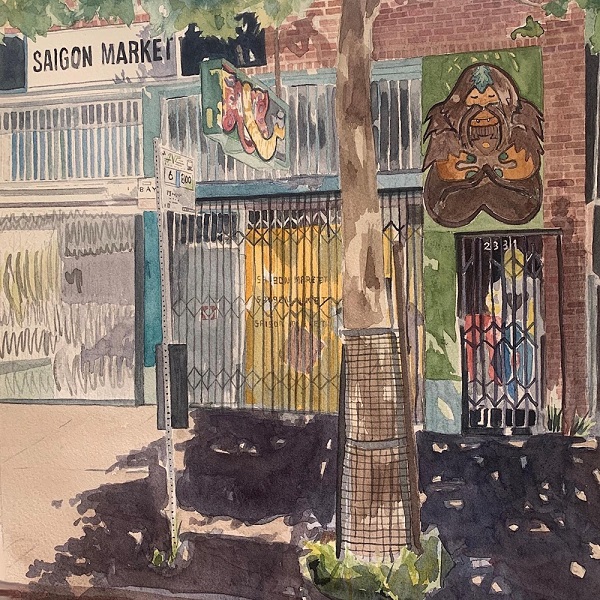 Saigon Market EP is the latest from B. Hamilton, the project of Oakland-based artist Ryan Christopher Parks. From the lakeside folk contemplation of "Things I Learned at the Anti-Gentrification Bake Sale" to the soaring rock appeal of the title track, the EP thoroughly impresses with its riveting songwriting and timeless-sounding appeal.
The captivating "Saigon Market" evolves with intrigue from answering-machine intrigue into a rollicking, bluesy assortment of twangy guitars and bouncy keys. The vocals' emergence thereafter touts a debonair quality, with the "take it back home to Saigon," remarks driving into a buzzing ferocity past the three-minute turn. Here, a deep vocal swell approaches the four-minute turn with invigorating qualities. "Saigon Market" is a stylish, confident showing.
Elsewhere, the opening "Martin Eden Written Left-Handed in Crayon" exudes a smooth rock nostalgia to start, furthered by the "who cares how this came to be?" remarking. It's an apt opener for an EP that consumes in its cohesive, free-flowing melodic charm. The "Saturday is calming me down," central hook proves enamoring, with shades of Steely Dan in the production.
Another highlight, "Things I Learned at the Anti-Gentrification Bake Sale" presents a more contemplative folk appeal, described by the artist as "just a composite of my time in Oakland, watching the same city blocks inhale and exhale through some pretty fucking crazy points in American history." The lyrical feelings of contentedness even as "the axe just keeps on swinging," plays cohesively within the EP's confident, grooving vibe. The Saigon Market is a definitive success from B. Hamilton.
—
Two of the EP tracks can be streamed on the updating Obscure Sound's 'Best of November 2023' Spotify playlist.