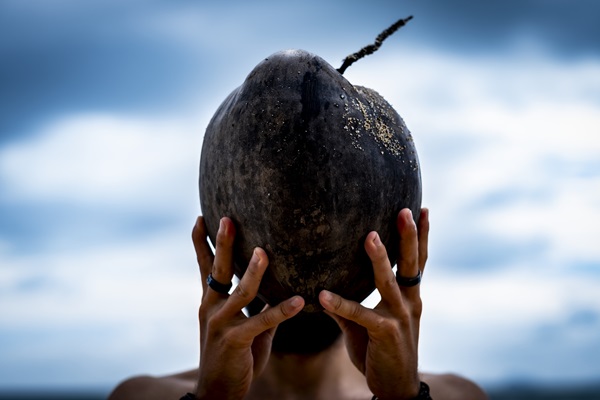 An album out today from Polish artist Flaner Klespoza, Czarny kokos (Black Coco) takes inspiration from the artist's retreat to a tropical island. There, he composed and recorded the tracks within, whose atmospheric spirit balances meditative lushness with brisk creative vigor throughout the standout production.
The opening track "Tropikalne wiatry (Tropical winds)" hypnotizes with trickling percussive effects and an escalating synth buzzing amidst bird-chirping samples, crafting a jungle-set momentum. Atmosphere is palpable throughout the release, and this opener certainly emphasizes that. "Tajemnice porcelanek (Cowries mysteries)" compels as well alongside a bird-chirping background, though this time more reliant on wordless vocal samples and fervent percussive thumps in building a memorable soundscape. The heady synth tones, tribal-like vocal samples, and heavy percussive movements make for another captivating success.
A more calming initial approach on "Przygody dzikiego psa (Wild dog adventures)" casts a meditative spell, as sporadic percussion and vocal snippets culminate in a delectably dazzling eeriness at the three-minute turn, when spacey synth burst with effervescent mystique. A stirring creativity is present here and throughout the album, whose finale "Ta?cz?ce palmy (Dancing palmtrees)" also enthralls with its widely eclectic range of brooding rhythmic effects, ominous vocal touches, and wintry twinkling. Czarny kokos is a showcase in stylistic, atmospheric mystique from Flaner Klespoza.
—
This and other tracks featured this month can be streamed on the updating Obscure Sound's 'Best of November 2023' Spotify playlist.
This post is written in support of the artist's promotional campaign.