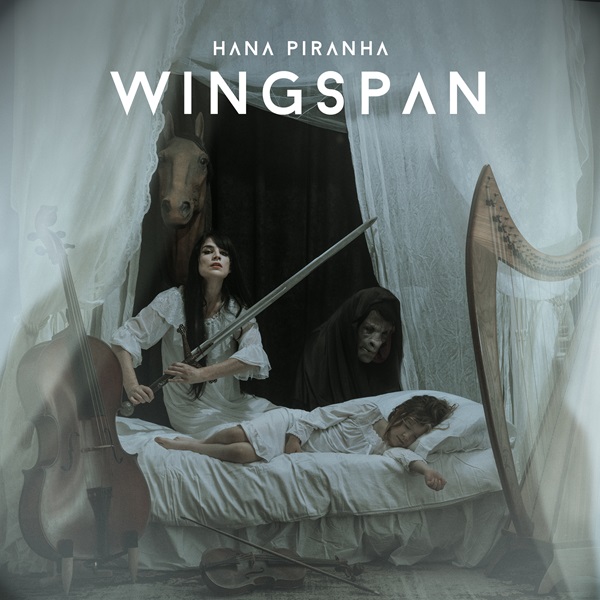 An engaging rock sound shows throughout Wingspan, the fourth album from Hana Piranha. The artist — who was born in Wellington, New Zealand and moved to England at age twelve — notes inspirations like Lana Del Rey, Nine Inch Nails, and PJ Harvey within their memorable sound. The band also includes Jim (guitar), Andy (drums), and Mishkin (bass).
"I got the idea for the title of Wingspan before we started writing the music," Hana Piranha explains. "We were at a place with the band, and myself as well, where it became about self-development rather than self-destruction, so it came from this really positive place of fulfilling your potential and your potential being bigger than just what other people can see of you."
The opening "Azure" has an abundance of atmospheric momentum, casting a shanty-like mystique. "Lost to the tide," ghostly vocals assemble, with plucky guitars and string-laden mystery surrounding. Water-forward imagery concocts visions of a watery grave initially, rousing into a rock-forward charisma past the mid-point, as the refrain takes on a new life; the track is a fantastic start-up to an album full of riveting songwriting.
"I Wanna Leave" is more immediate in its rock-forward invigoration, as debonair vocals and growling guitar distortion. "I'm just a shadow on the wall," the vocals drive into the title-referencing hookiness. In the dreamier spectrum, "Only Love Remains" mesmerizes with its synth-touchd haziness and twangy guitar lines, as the "follow this parade," vocal sequence proves replay-inducing. From these successes to the peppy rock theatrics of the rousing title track finale, Wingspan is a sturdy rock showcase from Hana Piranha.
—
"Azure" and other tracks featured this month can be streamed on the updating Obscure Sound's 'Best of November 2023' Spotify playlist.
We discovered this release via MusoSoup, as part of the artist's promotional campaign.