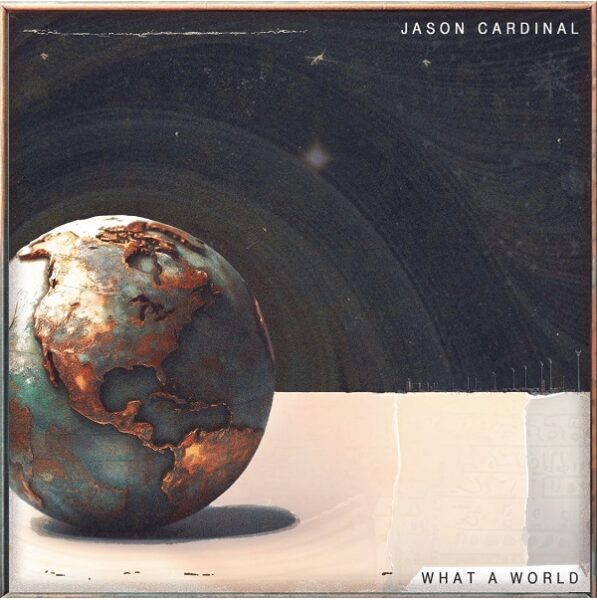 Impressing with its hooky, warm songwriting and reassuring thematic qualities, What a World is a newly released album from Jason Cardinal. The Boston-based singer/songwriter and multi-instrumentalist specialized as a one-man cover band for a decade, and then COVID hit. That time prompted Cardinal to focus again on original music, resuming a creative process that would culminate in the impressive What a World. The release embraces a DIY ethos, with Cardinal handling all instrumentation and vocal work, in addition to mixing, from his home studio.
"Heavy Lies the Crown" opens the album with an emotive momentum, traversing across a calming soundscape of prancing piano and shimmering acoustic guitar touches. A steady vocal composure accompanies lyrics invoking themes of perseverance, with a title-touting reference to being weighed down. "It's not alright for you to shoulder," they escalate with soaring qualities, yearning for some breath and space. Scorching electric guitars linger in the second half, representing a cathartic-feeling invigoration from the initial understated ruminations.
Chirpy guitars and bright organs kickstart a quick enamoring on the successive "Walk in the Sun," touting a punchily melodic charm. "Why don't we just walk in the sun?" the vocals ask with vibrant hookiness, culminating in the "why don't we just start a whole new world?" yearning. The album in general stirs with a gripping call for normalcy and unity in a world full of tumult, lending a sympathetic-sounding engrossment to prevalent strife. The bright guitars and harmonious vocals add further to the accessible enjoyment.
These bright rockers show considerable appeal, and the album also impresses with moments of balladry. "Dance and Sing" proves moving in its elegant piano lines and string-laden touches, emitting a sentimental adoration in its hope for happiness: "I wanna see you dance and sing." Aforementioned themes of prevailing through tough times continues here with a more ballad-ready impact, reminding of the tremendous benefit of reassurance and support in arduous moments.
The album's second half is equally riveting, spanning from the theatrical prog-rock ballad fervency of "Life on a Star" to the rousing anthemic spirit of finale "Leave Me a Sign." The former is particularly impressive with its songwriting, with moments like the "burning like a cigarette," venturing from the verses with replay-inducing variety.
"Leave Me a Sign" ends the album with thematic poignancy, reminding to "give me a call, I'll come from anywhere," — whether in actual danger, or if you just need to scream your heart out. Jason Cardinal's fantastic album What a World plays like a warmly reassuring antidote, awash in harmonious and melodic songwriting touching on rock, pop, and folk.