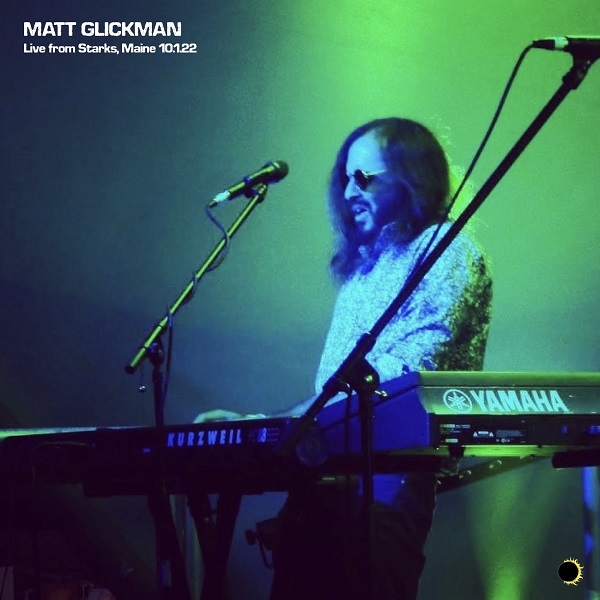 The enthralling songwriting and riveting performance of Matt Glickman is on display throughout his upcoming album, Live from Starks, Maine 10.1.22, releasing on November 10th. Dynamic piano arrangements complement stirring vocals, from both Glickman and Darby Sabin, with occasional doses of acoustic guitar. Efforts range from the starry-eyed balladry of "Color Fields" to a delectably sprawling 20-minute cover of the Grateful Dead's "Unbroken Chain."
The live setting makes it all the more impressive and naturally absorbing, showing the NYC native as excelling in songwriting and eclectic musicianship. The release feels like a cathartic release following tumult and a sense of isolation, felt by many following the pandemic. "The impact of COVID on music and my grief led me to break down a bit and has shaped a lot of the writing leading up to this show and its release," Glickman explains.
Glickman's musical pedigree is thoroughly impressive, collaborating with legendary group The Yardbirds on an upcoming release ("Family Tree II"), working with members from Further and The Wallflowers, and performing at festivals like LOCKN'. This live album provides further example for his ascending buzz in the New England jam scene.
The opening "FOCUS: Steady As Footprints" develops from synth-led mystique into ghostly vocals and swelling piano, growing from contemplative subtlety into shimmering clanging in the second half. Glickman's vocals provide a steadily melodic accompaniment. Two tracks feature the alluring vocals of Darby Sabin alongside, also bolstered by a warming acoustic guitar underlying. Her vocals add beautifully to the charismatic piano tones and inviting structural flows.
The cover of "Unbroken Chain" concludes the release with strong impact. Bassist Phil Lesh is one of Glickman's biggest inspirations, and this cover is done with clear love. The "looking for familiar faces," opening proves riveting into hypnotic soundscape construction past the four-minute turn, invoking a calming, psychedelic immersion into a riveting piano-directed stirring during the title-touting references and consuming conclusion. Live from Starks, Maine 10.1.22 is a riveting listening experience provided by Matt Glickman.