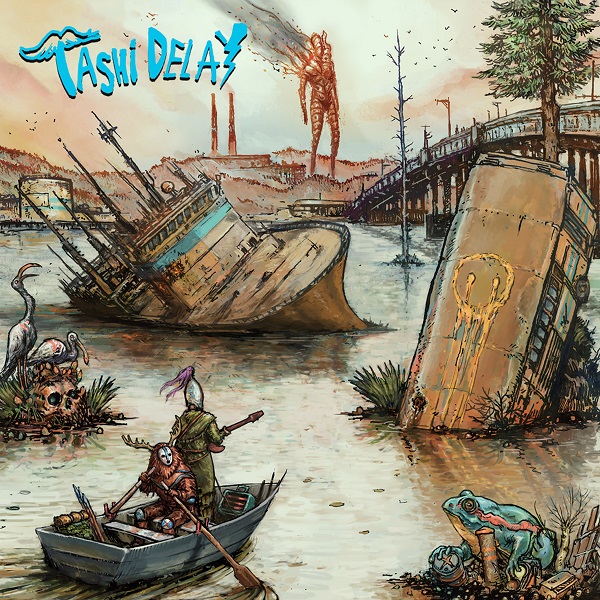 Embracing a post-punk and electro-touched cohesion, the self-titled album from Tashi Delay presents an exciting listening experience throughout. The project of British-born, New Orleans-based artist Emily Seabroke, Tashi Delay balances infectious production and stylistic intrigue with poignant reflections on our place in a digital world; there's an ultimate emphasis of individuality, creativity, and personal strength in a time rampant with climate crisis, corrupt leaders, and digital distractions. The album, out on November 10th, also boasts a compelling visual experience alongside, in the form of a full-length video for each track.
"Meltdown" is an exhilarating opener, invigorating with its build-up of buzzing synth fragments. Industrial tones and reflective synth drive into growls of guitar distortion, joined thereafter by a steady vocal quickness. The higher-pitched squeals, laid-back synth buzzes, and traversing guitars meld alongside the vocals for an apt introduction, exemplifying the album's stylish rock, punk, and electronic incorporations.
The album also impresses with more contemplative flows. A club-friendly rhythmic pulse drives the subsequent "Henry Kumera," further bolstered by a funky bass line and smooth guitar lines. The vibrant rhythmic background remains a steady force, though an understated vocal presence and trickling guitar flavor provides a hypnotic, spacious intrigue compared to the in-your-face immediacy of "Meltdown." Their differing tonal presentations yet shared melodic and aesthetical strengths make for a commanding one-two punch to kick off Tashi Delay.
A riveting, stylish appeal maintains through the release. "Butter" presents a hypnotic, spacey engrossment with its meditative synth effects, jazzy guitar integrations, and vocal versatility — swelling from lounge-friendly serenity into a bluesy soulfulness at mid-point. "Lazaretto" also enamors with its initially minimalist, rhythm-fronted funkiness — escalating during the "would you take it all away?" refrain with ample anticipation.
A delectable mystique presents itself on "Blue," whose twinkling keys invoke a horror-movie nostalgia. Ghostly vocal layers appear seamlessly as the bass line intensifies and smatterings of guitars appear, captivating in its back-and-forth between eerie sparsity and rock-forward invigoration. Lyrical references to manifesting monsters wholly embrace the creepy key infusions; the track is another showcase in savvy aesthetical pursuits.
Another standout, "Deception" stirs in its depictions of political corruption and societal strife — referencing politicians and bankers, and a seeming inability to connect with humanity as a whole despite their career successes. "And when they drive their car, the diamonds take them far, run over meager hearts," the vocals let out amidst snappy guitar lines, reflecting a punk-rock ethos in theme and instrumentation.
A gripping display in versatility, "FU" consumes as the album's finale. A left-field folk pulse shows initially with a crawling guitar line, growing into warming guitar distortion and a quivering vocal passion. The album proves ravishing in its emotive spirit and eclectic stylistic mish-mashing, and "FU" serves as a grand reminder of what's experienced beforehand — offering here a fantastic journey from enthralling art-rock to arp-y synth infusions. Tashi Delay's self-titled album is a thoroughly consuming showcase in style, melody, and creativity.