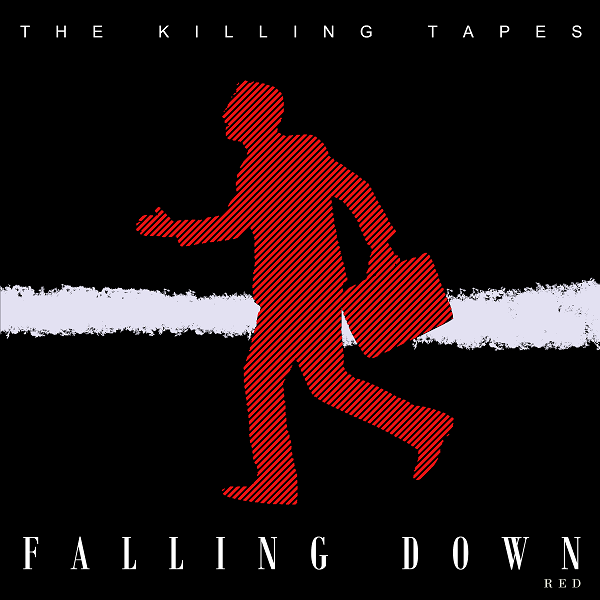 The latest release from The Killing Tapes, the Falling Down (Red) EP compels with its melodic, emotive blending of rock and synth-laden dark pop. Based in Linköping, Sweden, the project was formed by Marcus Crede and Peter Svensson, with the recent addition of Martin Berry on bass.
The EP's creative process benefitted from the spontaneity of productive collaboration. "We came to the studio once a week with a dark mood, stood in each corner of the room and played a mantra on our instruments, with the record button down," Svensson says. "After an hour I didn't even think about Marcus, I just played with him and when we heard something good, we looked up and smiled."
Opening track "There Is No Way" is a gripping journey through various emotions, from remorse ("I'm sorry") to perseverance ("there's no time to give in"). An initially dark vein of pop consumes, with subtle synth trickles and the apologetic lyrics driving into a spacey synth-laden lushness past the first minute. The second half stirs in its perseverant qualities and riveting vocal lead into the "we are just fools," hook — reminding of Depeche Mode, Erasure, and that vein of emotive synth-pop.
Another highlight, "Sunscreen" ventures from drum/bass vocal outpouring into the "I wanna go where there's no one," admittances. Dreamy synth arpeggios during the central vocal hook prove magnetic and atmospheric, exuding a stylish pop composure in its dynamic showcase from moody guitar-touched mystique to glistening synths.
The gentler, textured ruminations within "Untitled Dream" is a further showcase of the act's knack for compelling soundscapes, while finale "Benefits of Acting" intertwines buzzing synths and booming guitars alongside vocal intrigue, putting a bow on this definitive success of an EP.
—
"Benefits of Acting" and other tracks featured this month can be streamed on the updating Obscure Sound's 'Best of November 2023' Spotify playlist.
We discovered this release via MusoSoup, as part of the artist's promotional campaign.