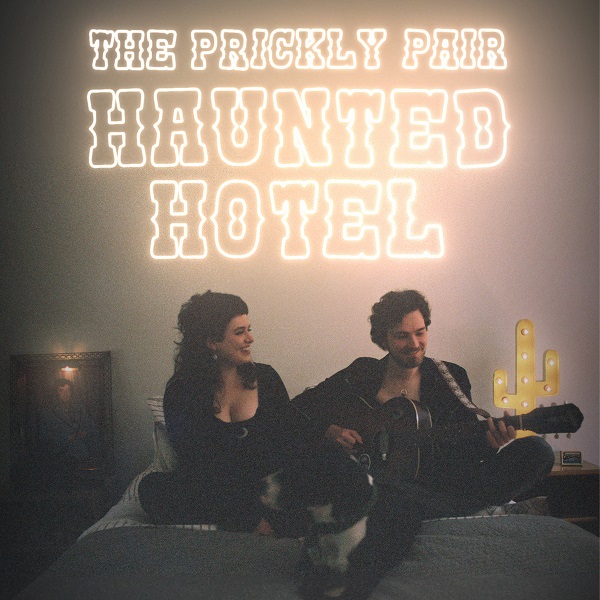 Nashville-based duo The Prickly Pair craft a consuming sound with folk and country inspiration on their Haunted Hotel EP, comprising two originals and two covers. Thematically, each of the tracks explore "love, death, and mortality in some way," ranging from the warming cover of "Banks of the Ohio" to the stirring folk success "Haunted Hotel," playing perfectly in this chilly, autumnal season. The duo of Mason Summit and Irene Greene showcase stellar songwriting throughout.
Opening the release, "The Prickly Pair Scare Theme" establishes the eerily compelling demeanor , injecting a ghostly, wordless vocal effect amidst pit-pattering percussion and warbled keys. The atmosphere is palpable. "Haunted Hotel" follows with its stirring folk introspection, as the vocals let out: "I stayed up all night in the haunted hotel." References to "galleries of ghosts" and bumps in the night add further to the haunting imagery, culminating in a plea for mutual belief in "you and me." Greene's vocal presence enthralls throughout with its impassioned delivery.
As the title suggests, "Six Feet Under" continues the dark themes, covering an overlooked country song from the '60s by Bob Fryfogle. Both vocalists appear with sporadically impactful qualities, driving to the title-touting chorus amidst twangy country-laden folk enjoyment. "Banks of the Ohio" is another cover, putting a warming folk and country backing to this traditional track; this cover was originally crafted for the online audio play "Creepy Crawl." The EP's four tracks combine for a riveting listening experience.
—
This and other tracks featured this month can be streamed on the updating Obscure Sound's 'Best of November 2023' Spotify playlist.
We discovered this release via MusoSoup, as part of the artist's promotional campaign.