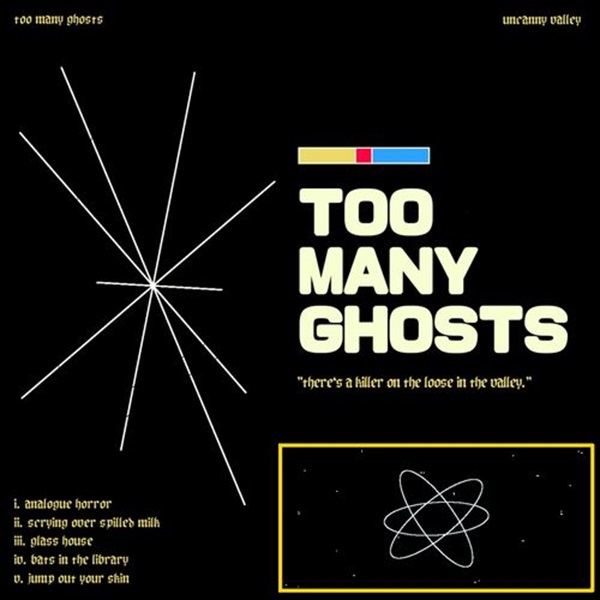 Showcasing a melodic yet dark synth-pop enamoring, the Uncanny Valley EP is a thorough success from Too Many Ghosts, an artist from the North East of England.
"Analogue Horror" opens with climactic appeal as a murky bass line and effervescent synths merge. "There's a killer on the loose in the valley," the vocals begin, adding to the nocturnal mystique with its ominous scene-setting. Dazzling guitars infuse at the one-minute turn, cohesively mingling with the '80s synth flair for a sound that grooves while retaining a solid atmospheric edge. The stylish correspondence between guitars and synths drives into a ghostly guitar-based crawl to close things out, traversing into the bouncier "Scrying Over Spilt Milk."
Clanging bass and synth pulses lead "Scrying Over Spilt Milk," invoking an OMD-esque nostalgia into the haunting "you could take my time forever," refrain; this effort enthralls with an immediate, infectious pull. Fittingly, coming after the dynamic opener and synth-dominated follow-up, "Glass House" struts the artist's rock-minded sensibilities. A playful range of guitars joins with psych-friendly vocals soaring at the mid-point, following some synth-laden moments; the result is wholly immersive, with shades of Bowie. The subsequent "Bats in the Attic" also conjures a similar era, meshing '80s guitars with post-punk rhythmic steadiness.
"Jump Out Your Skin" closes the EP in gorgeous form. Wordless vocal lushness and a plucky bass line strut a modern psych-pop appeal reminiscent of Tame Impala. The psych-pop/chillwave fusing venture into glistening guitars at the mid-point, emitting a nocturnal spirit that jangles in the cold night. Too Many Ghosts craft a mightily impressive sound throughout the Uncanny Valley EP.