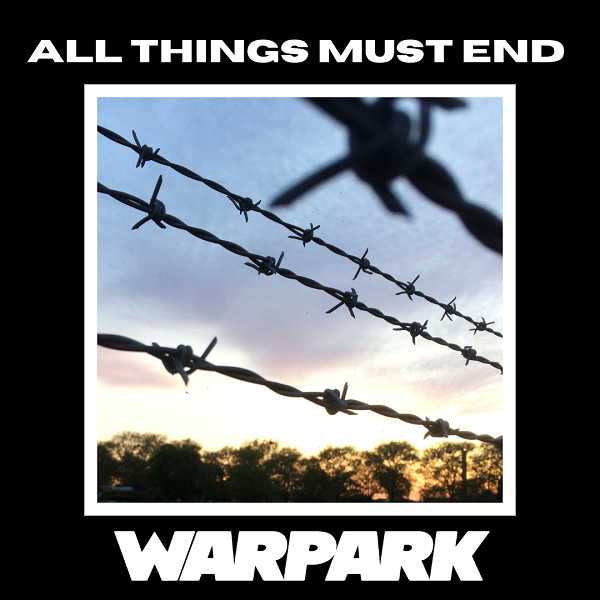 NYC trio Warpark present a compelling rock sound throughout their new album, All Things Must End, spanning from contemplative post-punk contemplation to ardent vigor. "The thinking behind the project was to collect the songs we were playing live and cement their form," the band explains. "We are just constantly experimenting and trying new things and most of these songs are never played the same way twice."
"Osiris" opens the album with an atmospheric rock grip. Subdued vocals escalate alongside intensifying guitars. "It feels like a curse to be locked inside," the vocals let out at one point, excelling into a range from tonal engrossment — from murmuring post-punk bass emphasis to ardent guitar trickling, stirring in the final minute especially. The track is audibly akin to a cathartic feeling of breaking free.
Whispered backing vocals and a ghostly lead rousing converge with stellar results on the ensuing "Menacer," another success," while the catchy "Take Your Place" impresses in its dynamic unfolding — driving from loose punk-friendly contagiousness into bursting guitar excitement and then a moody, crawling bass-heavy traversal.
The album's longest effort and finale, "Tomorrow Will Come," captivates with a resonating psych-touched character, spanning from lush vocal intrigue to a concluding guitar-led excitement; it caps off a fantastic album with satiating appeal.
—
"Osiris" and other tracks featured this month can be streamed on the updating Obscure Sound's 'Best of November 2023' Spotify playlist.
We discovered this release via MusoSoup, as part of the artist's promotional campaign.