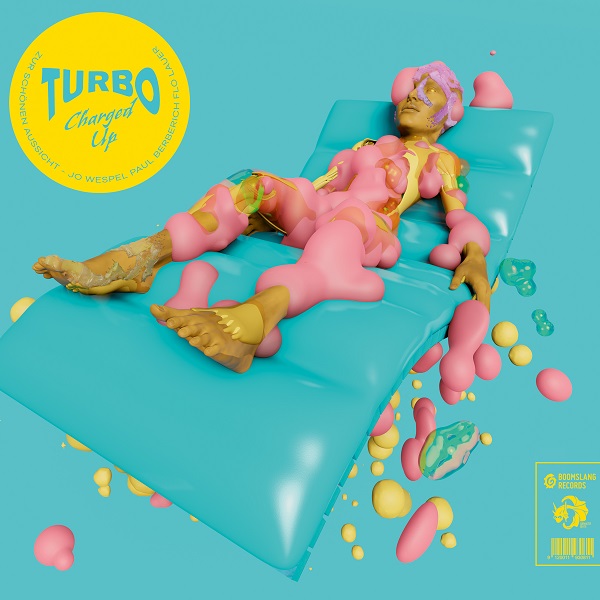 A stirringly creative hip-hop display from Zur Schönen Aussicht, Turbo Charged Up is an album with enjoyably unpredictable pursuits in style, structure, and beyond. The Berlin-based trio have assembled a talented roster of nine rapper collaborators for the release, based across Europe and the United States. Their engrossing flows and lyrical concepts complement the project's stimulating sound, reminding of Shabazz Palaces' free-flowing, jazz-touched hip-hop sound. Guitarist Jo Wespel (Beatdenker), saxophonist Paul Berberich, and drummer Flo Lauer present a riveting showcase throughout the album.
Brassy swells and climactic rhythmic reveals strut an enjoyably unsettling fervency throughout. Alongside, poignant themes are explored, including police violence, consumerism, racism, and empowerment. The result is a dense, invigorating artistic success, with ample highlights. Featuring the charismatic vocal work of Caribbean-American artist Sera Kalo, "New Order" impresses with its angsty lyrics and fragmented, experimental jazz allure. "I know my anger is a nuisance," the vocals let out, audibly capturing the impact of a hostile takeover," and the impactful nature of change in general.
A lusher, mysterious brass-forward engrossment shows on the riveting "50 Degrees," featuring the haunting vocals of KID BE KID. "Get along with the heat," the vocals encourage amidst beautifully capricious brass and distorted rhythms; with the title-touting refrain escalating feverishly, prior to a smoothly contemplative mid-point. Turbo Charged Up captivates with its atmospheric, creatively jazz-infused hip-hop sound and array of talented rapping collaborators.
—
"Turbo Charged Up" and other tracks featured this month can be streamed on the updating Obscure Sound's 'Best of November 2023' Spotify playlist.
We discovered this release via MusoSoup, as part of the artist's promotional campaign.