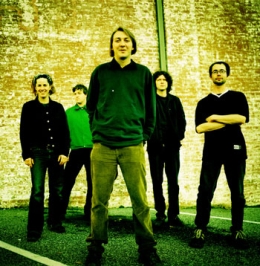 One of the most noteworthy things about Elf Power are that they are signed to the prolific Elephant 6 label. For those who do not know, Elephant 6 is one of the more interesting indie labels out there, and they contain some of the better bands such as Neutral Milk Hotel and The Olivia Tremor Control. Elf Power was formed in 1993, after two of the band members (Andrew Rieger and Bryan Pool) met at a Dinosaur Jr. concert. They decided to form a band with Andrew's girlfriend, Laura Carter, and this is how Elf Power came to be. Band members were switched when Bryan later joined Of Montreal. Aaron Wegelin later became their drummer soon afterwards, with Eric Harris (Olivia Tremor Control) joining the band as a guitarist in 2003.
Elf Power's sound is simply very similar to several other Elephant 6 artists. They manage to combine nostalgic 60s pop songs with modern day indie influence for their songcraft. While their name is a bit strange, it is no stranger than the other E6 headliners (Apples In Stereo, Major Organ and the Adding Machine). A look at the design of E6's web site will show you what I mean when talking about the general sound of the label. The two songs below are off of Elf Power's new album, Back to the Web. 'Come Lie Down With Me (And Sing My Song)' is a very pleasing opener. With the slow tempo of the song builiding up into an elegant chorus with appropriately placed strings, I personally think it is probably one of the better songs they have released. 'Peel Back The Moon, Beware!' is another fun one, displaying their edgier and catchier side. Back to the Web is Elf Power's seventh album, and it will be released on April 25.
————————————-
Elf Power – Come Lie Down With Me (And Sing My Song)
[audio:https://obscuresound.com/mp3/elf_power-come_lie_down_with_me.mp3]
————————————-
Elf Power – Peel Back The Moon, Beware!
[audio:https://obscuresound.com/mp3/elf_power-peel_back_the_moon_beware.mp3]
————————————-