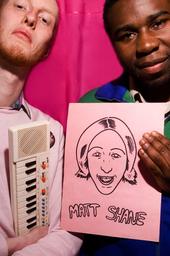 Think About Life are a duo from Montreal consisting of Graham Van Pelt and Martin Cesar (of Dishwasher and Monkey Heart). As shown in the picture above, Matt Shane is the name of their drum machine. Their sound can easily be compared to Wolf Parade with catchy dance structures and noise pop. At first, the songs may appear to be all over the place, but in no time the songs make themselves memorable and you'll have the songs in your memory. They are growers, but the change of key in songs such as 'Snowee Caterpillars' about halfway through are very nicely executed. Cesar's vocals fit the genre perfectly, and Van Pelt's musicianship is shown in full form in both songs. They have toured with Wolf Parade and will tour with Art Brut in May. Their debut album will be released on May 2nd.
———————-
Think About Life – Snowee Caterpillars
[audio:https://obscuresound.com/mp3/tal_snowee.mp3]
———————-
———————-
———————-
Other: Listen to a stream of the fantastic new Neil Young album here.
Also, recommended downloads:
Sufjan Stevens – Dear Mr. Supercomputer
Phoenix – Long Distance Call (video)
The Figurines – The Wonder
The Figurines – Rivalry
The Figurines – Bright
The Figurines – Debate Because It's Over