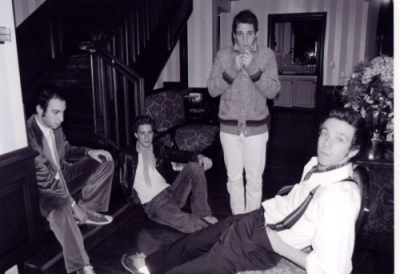 I was very excited after I listened to The Lovely Feathers' debut, Hind Hind Legs, for the first time. This was due to their accessible sound that they have found success in. Sure, 2006 has been a great year in music, but it has mainly been innovative artists with such perplexing sounds that while enjoyable… often require thinking. Aside from bands such as Phoenix or The Futureheads, there have not been many good albums that are just laid back and fun. Luckily, Hind Hind Legs is my favorite of the year so far in that genre. The band is four friends from Montreal, Quebec, who formed in 2004. They describe themselves as "a band which toots blossomy, extractive post-punk-infused eccentric pop." I'd have to agree.
One song from the new album would be 'Ooh You Shocked Me!', which opens up with a bit of a retro feel (much like their press photo), but slowly caves into a modern beat, especially at the point where the tempo keeps increasing to where it feels like the song is about to explode, and it does. 'E Man Sorrow' reminds me a bit of the Red Hot Chili Peppers, though the song is most likely better than anything done on Stadium Arcadium, especially because they are not ripping off of Tom Petty. The song also utilizes the speeding up of the tempo, as displayed in the previous song. I especially like the keys in the chorus, proving to make the song one of the catchiest off of the new album. I would strongly suggest Hind Hind Legs if you find these three tracks enjoyable.
———————
The Lovely Feathers – Ooh You Shocked Me!
[audio:https://obscuresound.com/mp3/feathers-shock.mp3]
———————
The Lovely Feathers – E Man Sorrow
[audio:https://obscuresound.com/mp3/feathers-man.mp3]
———————
The Lovely Feathers – I Really Like You
[audio:https://obscuresound.com/mp3/feathers-like.mp3]
———————