Posted
May 12, 2006 by Mike Mineo
in Features
MUSIC DOWNLOADS: The Pipettes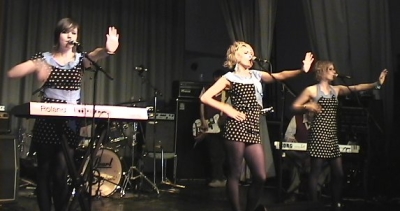 Catchiness could be defined in a numerous amount of ways, depending on one's particular musical taste. However, there are a few songs by several bands, that if someone said was at least not somewhat catchy, I'd stare in a bit of disbelief. Several songs from The Pipettes apply to this, as the trio of ladies from the UK are releasing their first album, We Are The Pipettes, this July. Simply put, the album contains fourteen songs, and most of them are great fun to listen to. They definitely have influences from 50s female doo-wop bands, which is much more appealing than it sounds as they combine it with modern influences, as I've even heard musical tones resembling likes of Squeeze and Pulp.
I think it is rather obvious that 'Pull Shapes' is going to be big. If you don't listen to it here, you're going to hear it sooner or later regardless, most likely. All three lend their vocals to one of the catchiest songs of the year, showing their different types of music and dancing. Usually when pop bands turn to strings, it is often seen as a desperate and cheesy attempt to spark emotion. This is not how The Pipettes do it, as the strings are beautifully done. "Clap your hands as you want some more, clap your hands if you want some more!" as an audience sample and clapping is heard adds a great touch of the frenziness as well. 'Tell Me What You Want' is another great utilization of strings with another dramatic chorus, as it is one of their many songs that deals with slight crushes or flings. The Pipettes should be one of the premiere bands of the summer with their dramatic hooks and lush arrangements.
———————
[audio:https://obscuresound.com/mp3/pipettes-pull_shapes.mp3]
———————
The Pipettes – Tell Me What You Want
[audio:https://obscuresound.com/mp3/pipettes-tell_me_what_you_want.mp3]
———————
Mike Mineo
I'm the founder/editor of Obscure Sound, which was formed in 2006. Previously, I wrote for PopMatters and Stylus Magazine. Send your music to
[email protected]
.