Posted
August 30, 2006 by Mike Mineo
in
Hot Snakes… live, not on a plane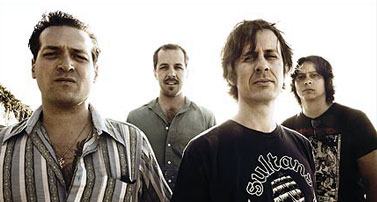 Live albums tend to represent a band's energy very well and this one is no different. Hot Snakes have already called it quits but a new live album, Thunder Down Under has been released. After being formed in 1999 by John Reis and Rick Froberg, the band called it quits last year, through a handwritten letter on their official web site. Thunder Down Under delivers several examples of their energetic live performances, citing several of their best songs. It does not run like a greatest hits record though, with a few less popular songs along the way. Their straightforward sound of nonstop punk-revival takes cues from McClusky and Wire, who has influenced any band of the genre past the 70s. The quality of these live performances are very well done, being recorded live at the Australian Broadcast Company for Triple J Radio. I don't find many diversities between the live and recorded tracks, but the energy is certainly present.
'Braintrust' was the opener on their last studio album, Audit in Progress and it kicks off their live album just as well. The songs remain focused and engaging, though it will take several listens to truly differentiate the repeativeness between songs. 'Let It Come' starts off with the same old intensity, eventually falling into a pausing percussion, before sweeping in again with a few verses even more effective than the first. The track, if anything, is an example of their fantastic synchronization in the rhythm section. 'L.A.X.' is one of their cleaner and immediately catchier songs, off of Suicide Invoice. The live album is a fine farewell to an entertaining and memorable band with a good run.
——————————————————————————
[audio:https://obscuresound.com/mp3/hot-bra.mp3]
——————————————————————————
[audio:https://obscuresound.com/mp3/hot-let.mp3]
——————————————————————————
[audio:https://obscuresound.com/mp3/hot-lax.mp3]
——————————————————————————
Mike Mineo
I'm the founder/editor of Obscure Sound, which was formed in 2006. Previously, I wrote for PopMatters and Stylus Magazine. Send your music to
[email protected]
.