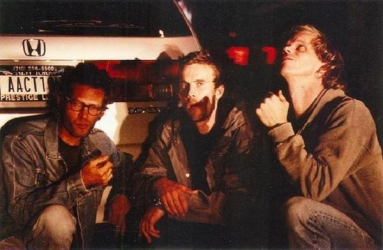 When Liars formed in 2000, they originally were a four-piece including bassist Pat Noecker and drummer Ron Albertson, both friends from Nebraska. After about two years and an impressive debut album in They Threw Us All in a Trench and Stuck a Monument On Top, Noecker and Albertson both left the band to pursue their own projects. The two remained together and formed N0 Things, a band that does not stray too far from the funky punk sound that Liars creates so well. Remaining on their original instruments, they recruited Christian Dautresme to handle the vocals and guitar work. Dautresme's lyrics mainly consist of jumbled shouts or repeated words, but he always makes the chorus seem comprehendable. His vocals remain right on spot with the generally consistent dark theme of the music, being a perfect fit. The non-stop frantic use of any and all sounds N0 Things can get their hands on may seem overbearing at first, but it eventually eases in easily. They will release their debut album, Trees, this year.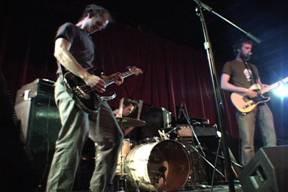 'Trees' opens up the album with a piercing roar, while Dautresme's vocals seem to be waiting to erupt during the mumbled verse before the eventual edgy chorus, in which he squirms out "please take it over" in a very convincing tone. He actually sounds a bit insane, which proves to be just as well. Dautresme offers a bit of mock parental advice in 'Have It Your Way', in which the only understandable words that manage to escape being "Don't break your neck, sonny" and "don't fall out of line". Perhaps he is mocking his good old pops after seeing a N0 Things show? The band is known to go all out for their live performances, which would be fitting with Dautresme's raggedly enjoyable crooning and the unceasing rhythm section of Noecker and Albertson. The song's structure is straightforwardly traditional until the outro, where Dautresme's vocals are yet again highlighted when nothing but a high toned guitar verse backs them up. 'International Insurrection' is nowhere as near as odd as the first two songs, being one of the only songs on the album that actually takes it easy for awhile, with the song being barefaced over unelaborate effects and production, compared to the other tracks. Still, 'International Insurrection' manages to be great fun and one of the initial songs off the album that will have you coming back for more. Trees may get overlooked by some because of its coherently odd presentation, though those who give it a listen will clearly not be disappointed.
—————————————————————————————
—————————————————————————————
—————————————————————————————
N0 Things – International Insurrection
[audio:https://obscuresound.com/mp3/n0t-int.mp3]
—————————————————————————————
Three more songs can be found on their MySpace.