Posted
November 30, 2006 by Mike Mineo
in Features
Field Music kicks off 2007 with a roar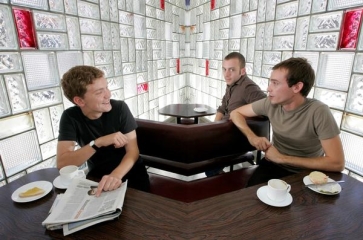 Along with yesterday's The Semanaires, here we are again with another trio that partly consists of two brothers. They call themselves Field Music, and you may recognize their name due to their exceptional self-titled debut album, released in 2005. One of the two Brewis brothers, Peter, was the original drummer for The Futureheads, and Field Music's general sound output doesn't stray too far away from their catchy and rhythmic sound influenced by the British Invason. Unlike The Futureheads though, the trio puts more emphasis on diversity and instrumental variation. In 2005, Field Music embraced us with an orchestra filled with trumpets, glockenspiels, and violins over the casual guitar and bass on their debut. In other words, they are one of the most promising chamber pop bands to come out of the UK in several years. After gaining further popularity by touring with the likes of Architecture in Helsinki and generating buzz at shows such as SXSW and the Reading festival, they plan to bring us more of the same with their sophomore album, Tones of Town, in 2007.
It is obviously too early to start listing songs, but 'Sit Tight' is already one of my favorites of 2007. The song is jumpstarted by the constant keyboards of Andrew Moore, while a shriek of sorts signals the drums to enter the picture with a fantastically catchy bass line. The song initially sounds traditional throughout each verse until the strings indicate a change in harmonics, releasing an abrupt and downbeat but catchy chorus. Field Music remains notorious for diversification in songs, with the outro sounding entirely different than any preceding element whatsoever, keyboard effect aside. 'Kingston' is a springy approach to a delightful song led by Moore's keyboard, with lush strings eventually complementing the rich vocal harmonization. The rush of violins towards the end of the song is written beautifully, wrapping up one of the more pleasing songs on the album in less than two minutes. 'A Gap Has Appeared' has more orchestral influence in the introduction than the previous two songs combined, and perhaps most of their other songs as well. The sullen orchestra looms for introduction, until the vocals provide indication for a brash synth track and lively percussion. Like most tracks on the album, this one is catchy as well. Tones of Town is a solid follow-up to one of the better debuts of 2005, proving that Field Music can live up to their high expectations.
——————————————————————————————-
[audio:https://obscuresound.com/mp3/field-sit.mp3]
——————————————————————————————-
[audio:https://obscuresound.com/mp3/field-king.mp3]
——————————————————————————————-
Field Music – A Gap Has Appeared

[audio:https://obscuresound.com/mp3/field-gap.mp3]
——————————————————————————————-
Mike Mineo
I'm the founder/editor of Obscure Sound, which was formed in 2006. Previously, I wrote for PopMatters and Stylus Magazine. Send your music to
[email protected]
.