Posted
April 30, 2007 by Mike Mineo
in Features
Obscure Sound: Best of April 2007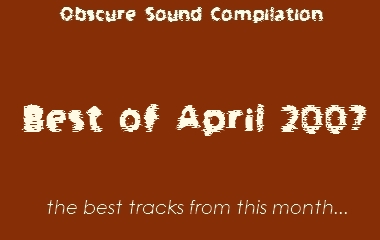 Here is the second compilation, gathering the best tracks featured on this site in April. The previous compilation in March went over well so I hope you enjoy this one just as much. As usual, you can either download the songs individually (by clicking on the song name) or as an entire RAR file by clicking the link below the track listing. Enjoy.
01. Sea Wolf – You're a Wolf (post)
02. Salem Al Fakir – This Is Who I Am (post)
03. The Clientele – Isn't Life Strange? (post)
04. Dr. Dog – Alaska (post)
05. Luther Russell – Rise & Shine (post)
06. Erasure – Golden Heart (post)
07. The Mary Onettes – Lost (post)
08. The Midway State – Nobody Understands (post)
09. Ill Lillies – High Tyde (post)
10. World's End Girlfriend – Dance For Borderline Miscanthus (post)
11. Thailand – Valley Vista (post)
12. Ancient Free Gardeners – When Your Years Are All Returned (post)
13. The Swede – The First Song on This Record (post)
14. The Milestone Corporation – Steven (post)
15. Great Northern – Just A Dream (post)
Mike Mineo
I'm the founder/editor of Obscure Sound, which was formed in 2006. Previously, I wrote for PopMatters and Stylus Magazine. Send your music to
[email protected]
.