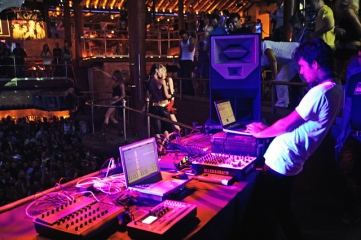 I am pleased to announce that we will be hosting another ticket giveaway. It is featuring an electronic artist who nearly defines artistic consistency. The winner will receive two tickets to the Matthew Dear show on Thursday, October 4th, at the Rock 'n Roll Hotel in Washington D.C.; the opening act is the entertaining Mobius Band. I wrote a lengthy feature on the electronic whiz back in April when Dear released the first single, "Deserter", to his exceptional new album, Asa Breed. Since then, Dear's presence on the electronic scene has increased to a state of deserved recognition with the reception of Asa Breed, one of the best electronic albums of the year. In addition to the album's admirable sales and acclaiming reviews, casual listeners may recognize one of the catchiest songs off of Asa Breed, "Don and Sherri", as the theme song to that nifty Hummer H3 commercial. But whether it be under his own name or a series of monikers (Jabberjaw, False, and Audion), longtime fans see Dear as one of the most consistent electronic artists of the decade. For further information on his discography and associated music, check out my previous article here.
In terms of his live appeal, I personally have not yet had the opportunity to catch Dear on tour. However, those who have seen him describe it to be a "funky, dirty, techy, sexy" experience that transforms into a "beat-clapping frenzy", worthy of "instant memorability". For an up-close look, here is a video of Dear playing under his Audion alias less than a month ago. But, of course, what the video does not contain is the actual presence felt throughout. Any fans of electronic music should not let a free Matthew Dear performance pass by. Whether you are a veteran fan or newly converted by the Hummer H3 commercial, this one is highly recommended.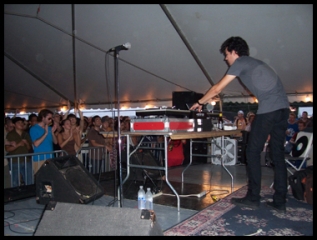 So, how do you enter? Simple. Just leave a comment by clicking here, telling me what your favorite Matthew Dear/Audion/Jabberjaw/False song is and why. One or two sentences will do. When the contest closes, I will contact the winner with a request for the postal address (to send the tickets), so please respond with a valid e-mail. Enjoy and best of luck.
——————————————————————————————
——————————————————————————————
——————————————————————————————
Matthew Dear – Elementary Lover
[audio:https://obscuresound.com/mp3/mdear-ele.mp3]
——————————————————————————————