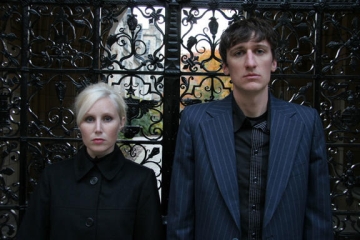 With dual vocal deliveries that can be as endearing as they are romantically contemplative and sparkling keyboard-led melodies that are most consistently found to be optimistically upbeat, Mates of State have basically echoed the way in which a husband-wife duo in the conventional realm of indie-pop are practically expected to sound. Like any couple in a state of rare romanticized bliss, their affection for one another has been heavily prevalent in both their lyrical and melodic tone, an aspect that has proven to be charmingly enjoyable to some and persistently irritating to others. However, even with such personalized views aside, the primary reason Kori Gardner and Jason Hammel have been releasing successful albums for nearly a decade can arguably be traced to the accessible form of pop music that they produce. Listening to Mates of State, listeners are never subjected or over-bloated production or attempts at styles that do not fit the group's audible personality at all. Instead, the stylistic delivery found on their albums has always been predictable to a pleasurable extent, with the main variable having been simply how strong the hooks are.
Even when applied to the consistent styling of Mates of State, their fifth album, Re-Arrange Us, is hardly an ambitious effort. It offers the same type of collaborative songwriting that has treated the parents of two to substantial success, making it difficult to even blame them for sticking with the same techniques. Apart from the general tempo of the album being more subdued when compared to the likes of Bring It Back and Team Boo, the only noticeable transition the duo has made in is Gardner's instrumental approach. Previously sporting her distinctive organ, Re-Arrange Us sees it replaced prominently with traditional piano and the occasional use of synth. Even this, though, is more superficially enabled, leaving little to do with the actual style presented. On successes like "The Re-Arranger" and "My Only Offer", the frequent fusion of piano with glimpses of synth, brass, and guitars provides for a few of the most memorable moments on the album. In what seems practically destined to be a single at some point, "The Re-Arranger" has a sense of both instrumental and melodic variation that embraces too few of the tracks found throughout Re-Arrange Us. Immediately spurred by halted percussion over an effervescent glow of horns and keys, both Gardner and Hammel often transition between reflective duets and vocal harmonizing throughout the track. Even though the chordal progression is simplistic, the duo's trademark collaborative vocal techniques provide for an enthusiastically invigorating experience. Even when compared to their past efforts, "The Re-Arranger" is one of the best Mates of State tracks to date.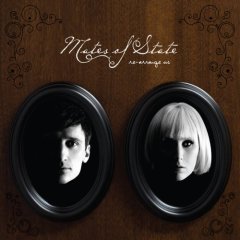 Unfortunately, when compared to the likes of "The Re-Arranger" and "My Only Offer", the majority of Re-Arrange Us consists of faltered opportunities within songs that radiate with predetermined potential. "Now" could have been pulled off quite well with its infectious warbles of synth and vigorous entry of piano, but the bridge in which Gardner emphatically repeats the word "now" sounds too awkward and overbearing to prepare the listener for a worthwhile hook. Even when the bridge passes on by, the chorus lacks in variation from the preceding verse and makes for an all-too predictable affair. "Blue and Gold" falters from a similar approach in which a build-up that lasts several minutes leads to little more than additional variation in percussion, leading listeners on to a grandiose moment that simply never occurs. Tracks like "Get Better" and "Jigsaw" are typical Mates of State affairs with their repeating piano progressions and increasingly emphasized structural tendencies, even if they fail to reach the heights of better executed tracks on the preceding Bring It Back in the vein of "Like U Crazy" and "Beautiful Dreamer".
Despite some worthwhile moments in efforts like "The Re-Arranger", "My Only Offer", and the serenely infectious "You Are Free", the biggest fault in Re-Arrange Us lies in the duo's inability this time around to capitalize upon original ideas that have been presented but not built upon. However, considering that the faults can be attributed more to over-repetition and cumulative decision-making than the actual songwriting involved, fans should have little worry about in the long-run. Due to such prevalent blunders, there is little doubt that Re-Arrange Us is one of the group's weaker efforts yet, even if the handful of laudable moments should prevent any listener from proclaiming it as a complete waste of time. 5/10
——————————————————————————————
Mates of State – My Only Offer

[audio:http://mineorecords.com/mp3/mstates-myo.mp3]
——————————————————————————————
——————————————————————————————