My week-long vacation of sorts turned out to be quite beneficial in several ways, with one of the most enlightening perks being the large array of releases from newer artists I had the chance to catch up to. The surplus of free time caused several promos to unearth themselves in a leisurely fashion, leading to a personal discovery of nearly a dozen or so relatively obscure acts that I feel require some well-deserved recognition. Thanks to such artists, the rest of July appears to look quite nice. Some of our vacation days may have passed by too quickly but the summer is far from over and there remains plenty of worthwhile artists churning out material that just sounds particularly cohesive when set against the sun's blistering presence and the ocean's calming rush. To kick off this week, I figured that something extremely accessible with a summery vibe would soothe some tense nerves. And while they are currently situated in New York City, the original roots of The Mood trace back to Fort Lauderdale, a destination whose abundance of shorelines appears appropriate for the group's shimmering melodies; it seems as if they captured the energy of a city like NYC and fused it with a tropic touch more reminiscent of Floridian climates. Regardless of such geographical entries though, The Mood deliver a great degree of satisfaction within their highly accessible blend of power-pop and punk.
While The Mood are particularly simplistic in their conventional approach, the group's captivating benefits arrive in the hook-filled songwriting of frontman Marco Argiro. Considering that they are fully confident in the addicting genre of power-pop, fans of the style should find great enjoyment in The Mood. After all, most quality power-pop has the sole goal to mesmerize listeners through infectious melodies and harmonies, causing The Mood to be a very worthwhile listen for anyone who does not hold the value of intricacy absurdly higher than that of smart and concise songwriting, which is just what the songs from The Mood are. Argiro is primarily responsible for such commendable attributes, though the rest of the band also lends a helping hand in several components that include the songwriting and lyrical content. Argiro's cousin, Corinne Callen, adds backing vocals, keys, and glockenspiel in addition to writing the lyrics for a few tracks, while guitarist Kenton Langstroth, bassist Brian Karp, and drummer Chris Bunatta round out the five-piece. Already sharing the stage with artists as diverse as Simian Mobile Disco, The Nightwatchman, and This Is Ivy League, The Mood has done well in generating buzz for their latest effort, with three of their songs appearing on MTV's Real World in addition to appearances at CMJ and SXSW and subsequent critical acclaim.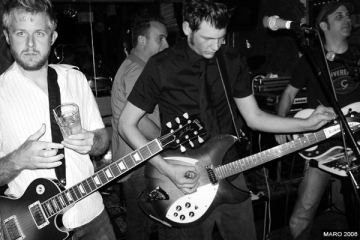 The Mood's newest release, Synæsthesia, was produced, recorded, and mixed by the band itself in NYC. It follows up an EP, Get In, that was released in early 2007. With both releases containing 12 different songs in all, it makes me wonder why they did not just simply put out a full-fledged album. Apart from the aspect of time, something tells me that their style may have something to do with it, as I have learned over the past several days that their songs sound best in small doses. This can be applied to many respectable power-pop acts though, as the music's appeal mainly relies on instantaneous responses rather than new components being discovered upon repeated listens. While each track on Synæsthesia is diverse enough for the highlights to stand out on their own, one can expect stylistic consistency throughout the entire duration. Argiro solidifies each track with vocals that are able to alternate between snarling punk schematics and breezy power-pop allure, backed by tight instrumentation that is often further supplemented by Callen's harmonizing vocals. The contagious "Eskimo Scientist" is very demonstrative of this, mixing an exciting blend of keys and guitars as Argiro and Callen star in a chorus that is uplifted by their vocal duet and the vibrant instrumentation that supplements it. Like most recognizable power-pop songs, the verses are fun but the chorus is even better.
Though it is difficult to pick a favorite on a release where all the songs appear consistently infectious and stylistically analogous, "Masquerade" stood out for me during the first listen and has proven to express a boastful amount of longevity. Like "Eskimo Scientist", it utilizes the expected formula of The Mood and other conventional power-poppers by building the song around an irresistible chorus, once again led by the duet consisting of Argiro and Callen. "Masquerade" somewhat separates itself from the linear classifications of power-pop and punk, with the vocal range presented by Argiro and structural progression of guitars and bass occasionally providing glimpses of surf-rock. Intentional or not, it works greatly to their benefit. For a band whose tracks could easily find a slot on most radio stations, "Masquerade" is arguably the most likely to capture the attention of listeners. The opening "In the Forest", a slick track that highlights the charm of desolate nature in romantic situations when compared to urban life, sees Callen's vocal role increased as she becomes the melodic backbone to the track's bridge. Though not as catchy as the proceeding "Masquerade' and "Eskimo Scientist", it bodes well as the opener on Synæsthesia by setting a stylistic tone early and confidently. Both releases from The Mood are now available via Outright Rock Records and should quell the hunger of power-pop fans who do not demand too much apart from infectiousness.
——————————————————————————————
——————————————————————————————
——————————————————————————————
——————————————————————————————