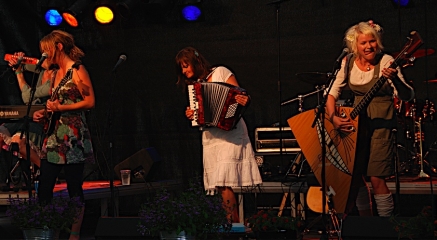 I was originally going to begin this feature by comparing Katzenjammer's passion for music to some relentless force of nature, mainly because this Norwegian quartet practically defines in their sound and exuberance what it truly means to enjoy playing music and succeed in doing so. Sometimes though, a video can be more expressive than words, especially when applied to certain circumstances that are too unique for conventional expressions. So, when I watched the four young women of Katzenjammer perform a live version of one of their several strikingly unique tracks, "Ain't No Thing", on a boat floating along the Nidelva River in their native Norway (here), it was immediately noticeable to me that it would take quite a bit to deter this group's creative vision. A surprisingly effective interpretation of post-war blues, "Ain't No Thing" appears as a very fitting choice for the video, starring a series of bluesy riffs and howling vocals that arise in dramatically poignant form as the four-piece traverses along the riverbank. The studio version, included as a bonus on their debut Le Pop, also happens to boast a sitar, showcasing some startlingly effective usage on a track dominated by a somewhat contradictory style of blues. For potential listeners, the video serves as an aptly accurate precursor as to what to expect on Le Pop.
Not only does Katzenjammer play with a wide arsenal of styles, but they attribute unconventional instruments in appliance to each style that would easily cause longtime fans of each style to come away quite startled (check out their instrumental arsenal in pictorial form here). This is mainly because they do it so well, whether they choose to implement a sitar in the bluesy "Ain't No Thing" or mix the banjo, upright bass, and an infectious trumpet riff in the folksy "A Bar in Amsterdam". The diversity on Le Pop is so wildly impressive that, even upon first listen, I was enthralled immediately on a track-to-track basis just to see what they would attempt next. "Tea with Cinnamon" is easily the album's most accessible effort, seeing the four-piece get as close to pop conventionalism as ever but still succeeding in innovation by effortlessly introducing a plethora of key-led hooks that alternate in tempo and lyrical progression as the track intensifies. "It's so beautiful" is the phrase sang throughout the chorus, a rather simple statement which contains a more significant premise as the lead vocalist employs several emphasized harmonic transitions that see her drag out the phrase in complementary form over a glockenspiel, accordion, and balalaika. "Now it's night and I don't feel so bright," the sprightly vocals warn, signaling a foreshadowed tempo change that sees the chorus conclude the track in a more elegant and more subdued form that is done to accentuate the brilliance of the initial chorus. It succeeds remarkably, as does the entire duration of this masterful track.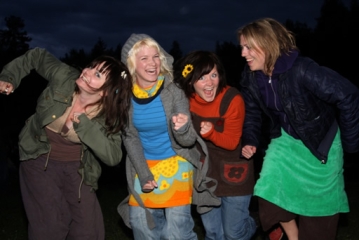 Though "Tea with Cinnamon" may take the honors as the catchiest effort on Le Pop, it would be difficult to argue against "Hey Ho, On the Devil´s Back" being the most artistically successful one. It succeeds on so many fronts – melodically, lyrically, and stylistically – that it should appease any concerns among the few that may initially question Katzenjammer's stylistic decisiveness. Clearly, stylistic intuitiveness is the skill present here, not stylistic indecisiveness. One listen through Le Pop should validate this, as the fact that all 12 tracks differ dramatically from one another with resounding success is evidence enough of the group's ability. Considering that it follows "Tea with Cinnamon" in the track listing, the contrast in styles and mood is quite remarkable. The group goes from an optimistically gleeful, glockenspiel-led bounce to a brooding tale of vengeful redemption that features a swirling collaboration of swift and forceful rhythm sections, swelling piano crescendos, and ghostly backing vocals with remarks like "save our soul" and "hey ho! On the devil's back!" The track has plenty of thematic allusions to boot. "I met the evil devil and he offered me a ride," the vocals begin. "He said: "you look tired, let me carry you a while."" Desperation and positional relinquishment are reoccurring themes throughout the track, resulting in an epic of sorts that is compelled by strong instrumental accompaniments, fervent vocal usage, and drolly effective lyrics.
The self-titled track is fascinating for a variety of reasons. After rushing through a flurry of circus-like enchantments, the group transitions into a sort of girl-group mentality as they each take turns with a very melodic vocal line over a dizzying rush of keys and bass. Think about what The Pipettes would sound like if they were somehow involved in Cirque du Soleil and this fast-paced gem is the result. "Wading in Deeper" serves as the ballad of the album, being a highly emotional effort as the vocals cry out, "LaLalalala, wading in deeper," over a steady piano accompaniment and sporadic additions of a hastily plucked mandolin, à la Morricone. The second verse in the chorus goes from "up to her knees" to "up to her waist" and then "over her head" in each successive chorus until the track concludes, ending abruptly on a rather tragic note.
"To the Sea" is a short but satisfying track with a sharp string-aided chorus, while "Play My Darling, Play" is an accurate imitation of country-folk that has become a fan favorite for good reason. "Mother Superior" sits in the same boat as "Hey Ho, On the Devil's Back" as being an epically invigorating epic, succeeding on all the same fronts and being a flawless closer to a sensational album. As you can probably see by my enthusiasm for each and every track on this gem of a release, I personally consider Le Pop to be one of the best debuts of the year. It is also one of the most stylistically masterful, not flaunting a single dull moment as this four-piece from Norway is one of the most passionately talented groups of musicians I have heard all year.
——————————————————————————————
Katzenjammer – Tea with Cinnamon

[audio:http://mineorecords.com/mp3/katzenj-tea.mp3]
——————————————————————————————
Katzenjammer – Hey Ho, On the Devil's Back

[audio:http://mineorecords.com/mp3/katzenj-hey.mp3]
——————————————————————————————
——————————————————————————————