Posted
July 3, 2009 by Mike Mineo
in Features
Obscure Sound: Best of June 2009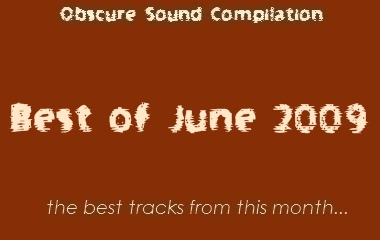 June was an interesting month in terms of diversity. Not so much in the actual styles presented, but rather in the tone and polish of each differing delivery. This compilation was designed to present, in order, groups that show varying amounts of flexibility in their sound. Most artists here within the realm of indie-rock, but there are prevalent differences in their approach and philosophy. It begins with a polished psychedelic spectacle by Elephant Stone, followed by two similarly adjusted tracks by the excellent Mariage Blanc and the promising Mar Project. Caledonia brings listeners back to indie-rock normality, just like the breezy feel of Foreign Born's effort. But before this pattern is continued, slightly more traditional efforts from Deer Tick (folk) and Lee Fields (soul) slow things down a bit in a satisfying way. Velan then brings us back to the summery indie-rock feel that Foreign Born previously introduced, and the compilation is concluded by two very young bands that specialize in lo-fi pop craftsmanship. These tracks differ in approach and method of production, but they also share a distinctive quality that makes them all quite memorable. The styles are present and effective, but it is the songwriting this month that should impress most prominently.
01. Elephant Stone – How Long (post)
02. Mariage Blanc – Marquee (post)
03. Mar Project – Stepping Stone (post)
04. Caledonia – Restless Year (post)
05. Foreign Born – Early Warnings (post)
06. Deer Tick – The Ghost (post)
07. Lee Fields & The Expressions – Ladies (post)
08. Chris Velan – Pauper in a Palace (post)
09. Let's Wrestle – My Schedule (post)
10. Big Fresh – Large Crowds (post)
Mike Mineo
I'm the founder/editor of Obscure Sound, which was formed in 2006. Previously, I wrote for PopMatters and Stylus Magazine. Send your music to
[email protected]
.