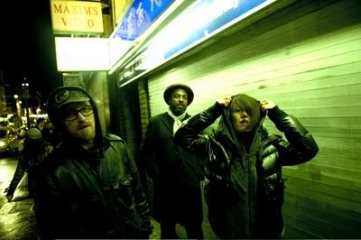 If it is possible to be ambitiously impatient, Kevin Martin would exemplify it perfectly. His ambition and impatience often clash for the listeners' enjoyment, producing a variety of projects that all encompass his ingenuity without being restrained by observational cohesiveness. In addition to his ambition and impatience, Martin has always resembled a perfectionist of sorts in his music. To pursue various stylistic endeavors is a risky venture when cohesiveness is looked for since successful albums require flow. Stylistic creativity for perfectionists can sometimes be found in rare compilations, where flow is not entirely necessary. Martin has exhibited knowledge in dozens of genres – from dubstep to surf-rock – since his emergence in the early '90s and his ambition, innovation, and preciseness have led to his abundance of projects. The Bug is his most recently notable, with last year's London Zoo appearing on my best-of, and other past projects included God, Techno Animal, and Ice. While retaining his groundbreaking work in dub music, each project explored different territory. From his early fascination with jazzcore and industrial hip-hop to his recent forays with dancehall and grime, Martin has always juggled his cohesive and ambitious traits proportionately.
Despite the success of The Bug, it is not surprising to see a prolific artist like Martin appear dissatisfied. He was recently quoted as calling The Bug too "caricatured" of late, which came to the surprise of those that enjoyed London Zoo last year (me being one of them). The surprise never evolved to impatience though, as being a trait that Martin also possess it meant a new project would come soon. He formed King Midas Sound in response. Roger Robinson was already very familiar with Martin, previously appearing on Bug tracks like "You and Me" and "Thief of Dreams" in addition to his work with Pressure, another dubstep project by Martin on Hyperdub. Robinson seemed to be one of few that could keep up with Martin's ambition, as his vocals are versatile enough to satisfy a plethora of styles. The two decided to form King Midas Sound after appearing mutually fervent over a certain stylistic movement. They had always enjoyed the genre of "Lovers Rock", which found its peak in London during the '70s with its seductively lavish form of reggae (female vocalists, smooth soul influence, etc.). In combining Martin's originality in the fields of dubstep and electronica with Robinson's serenely hypnotic vocals, King Midas Sound is one of Martin's most fascinating ventures yet.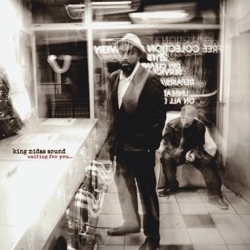 Martin has conquered several genres and is able to masterfully and audibly emulate most emotions, but no songwriter could successfully supplant the vocal role of someone like Robinson. Similar to how Elizabeth Fraser supplemented the beautiful atmospherics of Massive Attack's Mezzanine, these types of works tend to benefit greatly from appropriate vocalists. I say "appropriate" before "great" because these singers have to posses the perfect tone for these atmospheric works; a high score for the "wow factor" just is not going to cut it. A falsetto under Martin's murky layers of industrial synths and pulsing rhythms may not sound great on paper, but the duo's inventiveness have created something worth noting. They claim it to be an ode of sorts to Lover's rock and, although there is certainly a reggae influence in the rhythm section alongside Robinson's caressing vocals, their original grip is so strong that the result sounds like a new concoction rather than a tribute. King Midas Sound's new album, Waiting for You, is one of those rare albums that captures both atmospheric depth and stylistic fascination in its own unique form. With Martin and Robinson at the helm it is not really a surprise.
Opener "Cool Out" sounds as if the ghosts of reggae greats congregated in a dance hall and let their spirits do the singing. Robinson's vocals are suave and accentuated as Martin employs a very choppy, reggae-oriented rhythm section. The vocals and percussive stomps are reverb-heavy as expected in the realm of dubstep, but it is never unnecessary in this case. Some electronic projects have the tendency of getting sloppy with reverb, in turn creating excess layers of sound that do nothing but tamper with the song's core. The tracks on Waiting for You are different though, as Martin and Robinson's masterful synchronization produces a sound that is at times haunting, infectious, and absolutely stunning. The self-titled track marvels at its own subtle beauty with flourishes of high-pitched synth pads and twinkles of keys, the sounds of wind chimes nearly establishing a hip-hop feel. One could understandably anticipate a rap cameo on any of these tracks with the swagger in Martin's production, though Robinson's cool and pastoral vocals provide a more fulfilling rendition that provide more genuine emotion than rhythmic resonance. Other tracks like "Dahlin" show how they further perfect this approach, a practice that excels throughout the album. The sheer execution of Waiting for You is outstanding as a whole and this is one of the reasons why. A collaboration as fine as the one between Martin and Robinson is rare, and it usually results in a showstopper like Waiting for You.
RIYL: The Bug, Massive Attack, Boards of Canada, Gregory Isaacs, Cornell Campbell, Horace Andy, Washed Out, Joker, Martyn
——————————————————————————————
King Midas Sound – Waiting For You
[audio:http://mineorecords.com/mp3/kmsound-wai.mp3]

——————————————————————————————
——————————————————————————————
——————————————————————————————