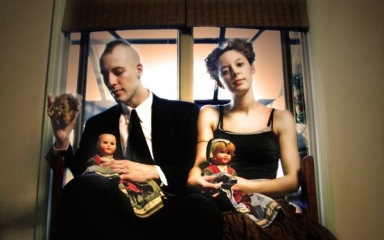 One would hardly expect the porno biz to produce something like this. A camera operator and make-up artist are more accustomed to visual appeal, after all, and music's role in porn is little more than background music providing the next worst thing to elevator music. I introduced the duo of Mr. Gnome over a year ago in April 2008, when I was considerably impressed with their full-length debut Deliver This Creature. Camera operator/drummer Sam Meister and make-up artist/guitarist Nicole Barille produced an intense wave of emotions through an interpretation of gloomy post-punk, gritty alternative, and progressive metal, with Barille's howling vocals managing to choke-hold the listener into unavoidable emotional fury that was dependent on Barille's constantly alternating melodic capacity and Meister's expert variation in percussion. The release's ability to juggle anger, somberness, and regret through similar emissions of heavily distorted guitar chords and hectic percussion made The Yeah Yeah Yeahs or Blonde Redhead the most apt comparison in this case, both using a howling set of vocals to unveil predominant angst before occasionally reverting to a serenely consumed atmosphere more intent with mellower hooks and instrumentation. The reason for such immediate comparisons may have been the only weakness of Deliver This Creature, as many conveniently put Mr. Gnome into the girl-angst indie-rock category. Their new album hopes to put these linear assumptions to rest, as Mr. Gnome possess a rare type of stylistic allure that is darker and more thickly progressive than their contemporaries.
Many longtime readers that checked out Mr. Gnome last year should be interested in its follow-up, the similarly titled Heave Yer Skeleton. As the title implies there is no retreat from the dark and moody form of explosive indie-rock that made Deliver This Creature a generally successful debut, at least in the sense that it prompted others to check out their earlier EPs. As gathered after a few listens, Heave Yer Skeleton brings back all the things good about Deliver This Creaturee as they still attempt to modify their own unique approach in an effort to separate. Although we were already used to Meister's demonic-like drumming capabilities and Barille's haunting croon, a track like "Sit Up & Hum" exemplifies the growth spurts this band has experienced since Deliver This Creature early last year. "Sit Up & Hum" manages to beautifully pass between the two realms of ethereal guitar plucks and roaring distortion. Barille's guitar playing is hardly the most technically impressive, but her intelligence shows in variation. The reverbed strains of guitar during the chorus recalls psychedelic-rock at its finest, while the preceding verse and subsequent bridge reap from howls and distortion that successfully symbolize points of contemplation, before the beautiful and stunning chorus brings listeners to a point of studied focus where there is no over-emphasis on either dialect or mood, but simply a marvel of consistency that improves upon Deliver This Creature with sophistication and freshness.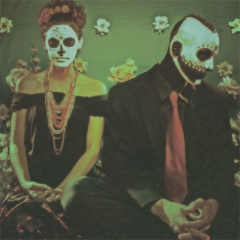 The album's semi-epic opener, "Spain", manages to muster up its strength through a fade-in of haunting acoustics that resemble an old-fashioned pirates song; Barille's subdued and haunting croon only does more to enforce this. The chuggng of percussion is eventually joined by a coarse burst of electric guitars, each different verse finding a new instrumental or vocal addition as Barille patiently and subtly builds up the intensity in her voice. This is all leading up to a gospel-choir chorus of sorts that sounds both possessed and enthroned in passionate fury. When Barille cries out that she "sings for revenge", the emotions run so thick through this effort that I would not be surprised if most listeners are trembling out of fear for their own well-being. This is the type of power that the duo of Barille and Meister are continuing to display, with the new release of Heave Yer Skeleton enforcing that much than ever before. From the infusion of rockabilly and folk in "Vampires" to the epic and emotionally empowering nature of "Spain" and 'Sit Up & Hum", Heave Yer Skeleton is a remarkable effort that solidifies Mr. Gnome's status as one to look out for.
RIYL: The Yeah Yeah Yeahs, Blonde Redhead, Death from Above 1979, Sleater-Kinney, Throwing Muses, Nurses
——————————————————————————————
——————————————————————————————
——————————————————————————————
[audio:http://mineorecords.com/mp3/gnome-vam.mp3]\
——————————————————————————————