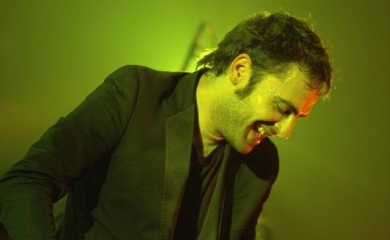 Canada holds notability for its bilingualism and multiculturalism in addition to their thriving music scene, which itself certainly benefits from this rich diversity. Malajube, Karkwa, and Les Cowboys Fringants are a few the best Canada-based Francophone acts out there today, all diversifying their lingual differences through exceedingly different styles. Malajube infuse an infectious form of indie-rock, Karkwa emit a moodily industrial alt-rock tone, and Les Cowboys Fringants perform more neo-traditionalist folk. There is little cultural differentiation from the US or UK artists among these Canadian acts, but Francophone music has always appealed to admirers of French culture beyond its linguistic presence. Malajube's accordion-over-guitars sound is signature by now, and Les Cowboys Fringants hardly avoid topics that pertain to their tongue's homeland. Dumas has been emerging in this scene ever since turning heads at a few French festivals in 1999. His releases since then have been a cult success of sorts, garnering outstanding reviews and ample crowds but with no recognition comparable to Francophone contemporaries. He was merely 18 years old then, and now at 29 he is beginning to effectively emphasize the struggles and triumphs of a talented songwriter.
The music industry is relatively unpredictable regardless of which language you speak, so to specialize in a language very exclusive to your geographic origin has its setbacks as well as rewards. Writing songs in English obviously has the most potential to be profitable, but niches are also very rewarding in independent music due to the broad selectivity of it. In a country where a good bulk of people speak French, the uniqueness of emitting a variety of musical styles within a familiar language is invigorating for all those that "get" both the lyrics and music. Not to say that it is a barren scene though; in comparison to Canadian indie-rock it just appears significantly diminished outside of Canada. Malajube may be the current most popular Francophone group that has a grip on the niche and is beginning to spread due to their indie-rock leanings, but Steve Dumas has his sights set on Francophone domination as well. The Quebec combines the seductively lush electronics of Sebastien Tellier with the thrilling indie-rock theatrics of Malajube, producing a sound that any fan of French music would love.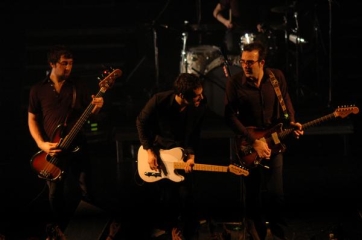 Dumas' fifth album this year (and eighth overall), Traces, was released earlier this week and is already receiving great press. One of its most memorable cuts, "Dans Un Rétroviseur", is a whirlwind of greatly inspired genres. With twinking synths, gorgeous strings, and classical guitar work, there is no apt stylistic classification for it. At times it can sound like it should belong in a Tarantino movie with its western guitar twangs and ominous mood, or at other times like A. R. Rahman with its ability to infuse world music with cumulative brilliance (flairs of middle-eastern, Eurotrash electro-pop, and classical Spanish music are all evident here). "Quelque Part" calms things down a bit with smooth acoustics and sputtering keys echoing over Dumas' caressing voice. He occasionally enlists the aid of excellent female vocal accompanists in tracks like "Dans Un Rétroviseur" and "Passer À L'ouest", the latter of which opens up Traces brilliantly, but his vocals are powerful enough in a subtly convincing manner to carry his beautifully crafted melodies most of the time. Perhaps the best example of this melodic gift is "Passer À L'ouest", a clap-along strum-along anthem of sorts that kicks off the album in grand fashion with a developing assortment of keys and its conclusion of stampeding percussion and coincides perfectly with the accompanists' na-na-na-ing and the excitable lead vocals. A crafty guitar solo is thrown in to finish it off in style, which is how most of the tracks on Traces reach significant heights. This is a fantastic album and one that hopefully does not evade year-end lists.
RIYL: Malajube, Karkwa, and Les Cowboys Fringants, A. R. Rahman, Jean Leloup, Ariane Moffatt, Tricot Machine

——————————————————————————————
——————————————————————————————
——————————————————————————————
——————————————————————————————