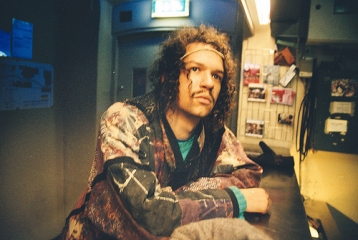 Darwin Deez exemplifies a recent breed of musicians. An early fascination with classic-rock being accentuated by recent interests in electronica is a trend that the newest generation of artists continue to play with, their success being generally inconsistent for several reasons. Their parents' favorite bands from the '70s can influence them just as much as some album from 2001, and chronology becomes somewhat irrelevant when this fusion is successful. Bridging the gap between classic-rock and electronica, where the songwriting in addition to obvious components of production differs dramatically, is often freshest when at its most accessible. It is one of the only things these genres at opposite ends of the chronological pop spectrum share. Great hooks are so "great" because they are easy to differentiate and anticipate, regardless of the instrumental arsenal or presentation. Great songwriting brings forth moments that spontaneously collaborate with the song's context, regardless of whether that context pertains to a certain melodic structure or lyrical theme. Darwin Deez is getting a lot of notice for pulling this off in a contextual sense, choosing to cater to both electronica and classic-rock's recognizable strengths instead of attempting some sort of jumbled cohesion.
Quick swipes of a guitar and a drum machine are all Darwin really needs to ignite his presence, which alone is more entertaining than the masses that attempt a similar rock-electro fusion. Immediate comparisons to the Strokes, Phoenix, or any sort of concisely punchy indie-rock are bound to arise for tracks like "Constellations" and "The City", where quick jabs of synths collide with trickles of automated percussion and swipes of guitar to make for an extremely accessible mold of synth-pop and indie-rock. It would be difficult to label Darwin as a minimalist when he refuses to stay bound to one repeating melody or concept, but these songs are certainly not choking on grandiose instrumental intentions. His self-titled debut album reaps from consistent production that informs listeners of Darwin's stylistic direction. When there is such an obvious meshing of chronologically separable influences, production as seamless as this is arguably essential. The actual content, especially in pertinence to the guitars, contains a surprising lack of melodic variation. The guitar chords love tremolo, and changing from one chord to another is usually a time-consuming process. Darwin never seems in a rush because of this, treating listeners to songs that get stuck in their heads so easily it should be considered a crime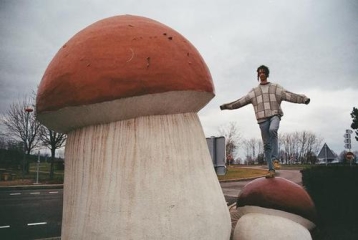 Darwin Deez's songs unfold slowly and subtly, boasting a steady and cool demeanor that likens itself to Beck's earlier material. Like Beck, Darwin possesses obvious pop chops that should find interesting collaboration with different styles of production over the next few years. I never like to predict the futures of artists with one album to their name, but Darwin certainly reminds me of someone like Beck with prevalent talent begging for modifications that come naturally with increasing experience. It helps that, at least at the moment, Darwin plays lo-fi pop in a medium where less minimalistic artists like Phoenix and the Strokes usually benefit most. It is fairly obvious that Darwin has less resources than these artists, as one could envision him playing all the songs' parts. The traditional-rock throwback arises in the tracks being little more than electric guitar, bass, and drums. His vocals contain enough range to make rather conventional progressions soaring and melodic, with little trickles of synths or percussive additives giving even more reason to stick around. Very radio-friendly efforts like "Radar Detector" contain lyrics capriciously churned out to the extent of carefree, youthful indulgence. "You and I go shopping and fall asleep inside a mattress car," he sings. "We cruise the neighborhood but it's not supposed to feel this good." Any deeper and it would sound awkward over the playful bursts of guitars and synths. One of Darwin's greatest strengths is that he makes his lyrical content neither pretentiously overwrought nor overly adolescent.
Even on a relatively basic effort like "Up in the Clouds", Darwin shows extraordinary melodic range within an initially restrained melodic presentation. Lines like "up in the cloudy stratosphere, gravity's weaker when you're near, my dear" may sound a bit too cutesy on paper, but within the spontaneous nature of the song it works wonders. The tone of guitars throughout Darwin Deez is consistent in a scratchy, lo-fi sorta way and this allows for great songwriting to shine. "Up in the Clouds" shows us one of these exceptional melodies with lo-fi; there are never any smoke and mirrors trying to detract from the main premise. Darwin's lack of urgency to implement these snazzy components of production, whether they be samples or heavy doses of reverb, shows quite a bit of confidence. Rightly so too, considering the bulk of Darwin Deez is simply infectious pop music that should fare exceedingly well upon its re-release this year. Its original 2009 release was somewhat overlooked, which I will blame poor marketing for when considering the instantaneous appeal of these tracks. The release barely exceeds 30 minutes, and these songs (none of which exceed four minutes) are all good fun. A perfect release for spring and upcoming summer, the breezy indie-pop of Darwin Deez comes recommended.
RIYL: The Strokes, Phoenix, The Explorers Club, Beck, Julian Casablancas, Two Door Cinema Club, Marvin Gaye, Jens Lekman, Sondre Lerche, Jeffrey Lewis, Little Joy, The Libertines, Arctic Monkeys, Franz Ferdinand, Interpol, The Vines, Kasabian, Benji Hughes, Vampire Weekend, The Cribs
——————————————————————————————
——————————————————————————————
——————————————————————————————