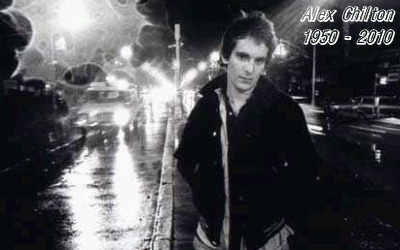 Alex Chilton, best known for fronting seminal power-pop band Big Star, died Wednesday of a heart attack. Those familiar with Chilton's work are certainly the minority when compared to those that have unknowingly experienced his influence. It is the sign of a rare talent, truly indicative of one being years ahead of the curve. Big Star was one of those groups restrained by non-exposure, with the ceaseless critical acclaim upon their 1972 debut, #1 Record, having little influence on album sales. Power-pop had seen the likes of Todd Rundgren and Badfinger establish themselves prior to this release, but the power-pop presented on Big Star's first two albums, #1 Record and Radio City, was unlike anything else at the time. Its sound is familiar and immediate today, but that is largely in part to influences that followed. The Replacements, R.E.M., and Teenage Fanclub are a few bands that are indebted to Big Star for their stylistic breakthroughs and Chilton's ingeniously melodic songwriting. That their influence was immediate just a decade later with The Replacements and R.E.M. shows just how well their material has aged.
I refer so much to those that Chilton has influenced for a reason. Whenever an unfortunate death like this occurs in the music industry, it at least opens the opportunity for younger audiences to discover something great. The near future should be filled with tributes to Big Star when considering all those that adored Chilton. If that can finally result in widespread exposure for Big Star and its talented lead songwriter, it comes four decades too late. There are plenty of biographies of Chilton that tell his story, from his beginnings with teenage blue-eyed soul group The Box Tops in the late '60s to his accomplishments in a solo career that provided fascination and effort in spite of mediocrity. These accounts are recommended, but not as much as Chilton's actual music. I urge everyone who appreciates genius pop music to check out #1 Record and Radio City at the very least. If you dig these, then Chilton has plenty of worthwhile material to check out that dates back to 1967. As for his essential work with Big Star, "Thirteen" is a classic that most people and their parents have heard at some point in their lives, and "In the Street" had its fame as the theme song to "That '70s Show". These examples are just the tip of the iceberg for getting acquainted with Chilton's songwriting though. They serve as popular reference points for those being introduced.
Chilton's breadth of work is so astonishing that most obituaries will have understandable difficulty in describing his influence. Even if the work of Big Star never reached the commercial success of those they influenced, the role of Chilton as their frontman and lead songwriter is one that endures even in the work of others. Finding a presence like that in contemporary music is rare, if not impossible. From Grammy-winning musicians to your parents, the praise for Chilton among those familiar with his craft is generally unanimous. He has penned some of the greatest American pop songs of the 20th century and influenced some of the greatest rock artists of the past three decades as a result.
——————————————————————————————
——————————————————————————————
——————————————————————————————
Big Star – Give Me Another Chance

[audio:http://mineorecords.com/mp3/bstar-giv.mp3]
——————————————————————————————
——————————————————————————————
——————————————————————————————
——————————————————————————————
BUY: The Box Tops, Big Star, Alex Chilton
Click here for a combo of #1 Record and Radio City for under $10. A great value for sure.