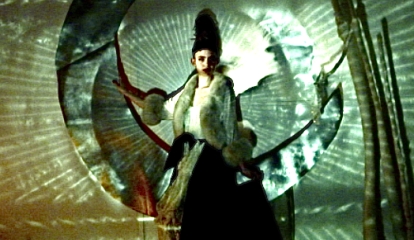 Claire Boucher may scoff at the idea of a conventional press photo. Conceptual art describes her sound and image better than a forced mugshot, which can potentially depict an artist as restrained or confined to conventional ideals. Great music needs no visual stimulant to prove its worth, nor does it even require a press photo of any kind. Enhancement of the apparent greatness of an effort can certainly be sought through visual additives though, and in the case of a project like Grimes it seems very ideal. The Montreal-based musician and visual artist plays with a very consistent formula on her debut album Geidi Primes, one familiar enough in its likeness of Animal Collective's sample-laden psychedelia and The Knife's capriciously icy electro-pop but also unique because of Boucher's prevalent strengths as a architect of quality atmosphere. On a whole, Geidi Primes has a very dark and mysterious tone that is complemented by Boucher's conceptual artwork. It usually consists of wacky collages with surprisingly compatible color schemes, or depictions of creatures where certain openings (mouth, eyes, nose, etc.) envelop into other creatures or objects. Her music develops much in the same way, with occasionally contrasting melodies co-existing in creative and compatible ways to pave way for effectively surprising twists.
Even when her songs pick up a notch in intensity, one of Boucher's trademarks is her repressed vocal delivery. Much like Beach House's Victoria Legrand, Boucher portrays an image of efficient suaveness as she shows no signs of rushing or underestimation. She recognizes this strength and often relies on little more than that on tracks like "Rosa", where the same one-measure bass line repeats itself only to allow Boucher to let herself go. Her coo-ing and ooh-ing is organized nicely in melodic fashion, and the extra flourish of twinkling keys in the song's final minute allows her to tread new territory in this regard. The heavy reverb of her simple croon is accentuated by the crisp representation of a more flexible and operatic accompaniment, which when combined creates some pretty beautiful sounds. The echo-y percussion, pulsating bass, and gleaming of strings on "avi" resembles gorgeous dubstep in the way the lead melody unfolds from a simplistically endearing introduction to a hauntingly memorable accomplishment with flawless accompaniment both in the instrumental and vocals. "I will take your breath away," Boucher sings, doing just that as she shows one of the album's subtler efforts as a masterful representation of artistic development. While quite the opposite of theoretically complex, it flourishes in its own ability to resonate within the dark and brooding atmosphere it creates through diminishing strings and an anticipatory rhythm section.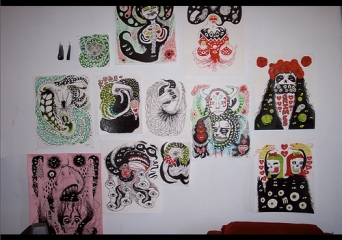 "Sardaukar Levenbrech" would be a great choice for inclusion in the next film by Hirokazu Koreeda, who is able to combine traditional Asian music and contemporary electronica to riveting images of resignation, loss, and isolation. Boucher's electronic manipulation of sounds makes it difficult to distinguish the possible involvement of specific instruments like mandolin or koto, but that is hardly what matters. The actual source may be a combination of several instruments, but Boucher makes sure discordance is never a possibility. The sound of a bird squawking underneath the trickle of synths on "Zoal, Face Dancer" breaks up the repetitive flow of the synth arpeggio, giving more prominence to her vocals. "Everyone thinks that I'm boring," she states over a lazily progressing melody, one that finds surprising clarity in the echo of reverb.
"Feyd Rautha Dark Heart" finds a similar effect in how the reverb actually prolongs several melodies that bear repeating, though this one is more subdued and pop-based in the hypnotizing allure of the lead lyric, "I won't break your heart in the dark." Call these efforts what you will: late-night driving songs, hangover antidotes, exotic lullabies… the list goes on and on. They are atmospherically intoxicating and often quite catchy, and other classifications are subjective in the sense that the listener's personal atmosphere contributes to the reception of the music itself. While Boucher occasionally gets caught up in the repetitive build-up, her music is more sincere and unconventionally fulfilling than the masses currently attempting lo-fi bedroom electronica. For this reason, it is hard not to forget several remarkable efforts on Geidi Primes.
RIYL: The Knife, Massive Attack, Burial, King Midas Sound, Martyn, Animal Collective, Kate Bush, Sally Shapiro, Silly Kissers, Beach House, Memoryhouse, Small Black, Body Language, Horse Shoes, Tap Tap
——————————————————————————————
——————————————————————————————
——————————————————————————————
——————————————————————————————