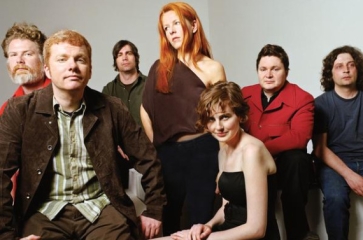 It's almost dark, and I am sitting in front of the fountain that decorates the Bearsville Theater in Woodstock, NY. Walking towards me is Kathryn Calder and her manager Euvin Weeber. Kathryn is looking like anyone else in the crowd that surrounds us, down to earth in a floral print dress, while Euvin blows her cover in a flashy, white suit. After introductions, Kathryn and I find a comfortable spot and begin to acquaint. Later this night, she will be playing the first show of her upcoming tour with her band The New Pornographers. The band very recently released Together, their fifth album, which features impressive collaborations and an extensive orchestra of unusual instruments. The band, who have been together since 1997, are a grand group of nine. I took my moments with Kathryn to speak of the tour, David Bowie, and her ongoing goal of producing the best album ever made.
LAUREN: Your album (Together) just came out a couple days ago?
KATHRYN: Yes!
Very exciting, congratulations
Thank you
You guys have been together for a while now. Since like, 95′?
Well, I think the official date is 97′. But, I didn't join until 2005. But yeah, it's been a long time.
How do you feel like your music has evolved since your first album (Mass Romantic)?
I think it's just getting "more." More of everything; more harmonies, more instruments. I think Karl is getting into orchestration these days, so it's pretty fun. You know, we've got lots of guests on the record obviously. Lots of cello, horn section, all kinds of chimes. You name it! We've got it!
On the album you collaborated with acts like St. Vincent and Beirut. Is there anyone you are really inspired by and would die to collaborate with?
Me personally? I'm not speaking for the band here? Who would I love to collaborate with… oh man. You know, I'm a huge fan of St. Vincent. I mean, technically, I've already collaborated with her. I wasn't there when that was all going down, but it's still awesome. Who else? I can't pick… but, David Bowie! I don't know. Tough question. The Shins!
You guys have been compared to The Shins multiple times!
Really? I'm not surprised. It's sort of a melody-driven, similar type of thing.
I noticed that the album art for Together is remarkably similar to Neko Case's solo album, Middle Cyclone. Any relation in regard to design?
Well the album artwork was actually designed by… this is terrible, but you're going to have to look this up. I can't remember. But they were both designed by artists, and Neko did the typography. I love it. I think they did an amazing job. (Editor's note: I believe Katherine is referring to Kathleen Judge)
What has been your most interesting experience on stage?
So many shows! I guess my most memorable show was when I first joined the band in June 2005 and we played Prospect Park in Brooklyn. It was something like my third show with the band… in front of, you know, 10,000 people. And Neko wasn't there, so I was singing Neko's parts. It was super fun, and about three quarters of the way through, we were on stage in this big park with tons of people. And there was this sort of "reserved" section for people in front of the stage, and then a bunch of people from behind stormed into the reserved section. It was fun, and it was this big party! That was one of my most memorable shows.
Well you guys are headlining Lollapalooza this year, are you excited?
Yeah, yeah! It's a big deal! We played Lollapalooza before, and I had a good time. That brings up another memorable show! We played Coachella, and I almost got heat stroke! For some reason I didn't eat before the show. I was too busy wandering around and having a good time. And it was sunset, so I thought, "Oh, Sunset! It'll be cooler!" It totally was not though, because the sun was directly facing me. So yeah, that's another memorable one. But yes, Lollapalooza!
This is the first stop on your tour. What made you choose Woodstock, NY?
Karl lives here! We did a lot of the record here. I mean, the record was done everywhere. We recorded in studios all over the place, just because that's the nature of the band. Most of the band is from Vancouver, so we make it work. Karl moved up here with his wife and they have this little guest cottage that we put up this makeshift recording studio in, and did a lot of the record in the bedroom. You know that kind of thing, where the control room is in the living room! So we did a lot of the record here, and then when we were looking for a place to rehearse, we picked this theater (Bearsville Theater) because Karl knew about it. It's a really beautiful little place, and it fits everybody. We've been here for the past week, just getting ready for the upcoming tour. Fitting, it's all very fitting.
What do you aim to achieve with your music?
I think we just try and make the best records we can, all the time. That's what the goal is, you just have to keep getting better, keep trying to make the best music you possibly can. That's all we're trying to do, all we've ever tried to do.
——————————————————————————————
The New Pornographers – Sweet Talk, Sweet Talk

[audio:http://mineorecords.com/mp3/newpo-swe.mp3]
——————————————————————————————
The New Pornographers – Silver Jenny Dollar

[audio:http://mineorecords.com/mp3/newpo-sil.mp3]
——————————————————————————————
Immaculate Machine – Dear Confessor

[audio:http://mineorecords.com/mp3/imac-dea.mp3]
——————————————————————————————
Immaculate Machine – Sound the Alarms

[audio:http://mineorecords.com/mp3/imac-sou.mp3]
——————————————————————————————
Get the "Crash Years" MP3 for free here.
Kathryn's solo material can be heard here.