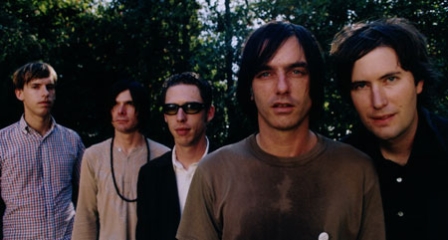 by Jon Chapple
It's a bizarre state of affairs when a band's live act actually starts attracting people prepared to pay good money (well, I say good money; it was £14 or something) just to turn up and heckle them. But judging by the crowd present for Anton and co.'s triumphant return to the Capital of The North, this rare and curious honor belongs – rather predictably – to the proudly divisive Brian Jonestown Massacre. Mingled amongst the die-hard BJM veterans (favorite chants: "go on, Joel!"; "Hide and Seek!") – and curious Newcombe newcomers (a load of noises roughly resembling what they think the words might be) making up the bulk of the audience at the intimate, packed-out University of Manchester's students' union gig on Monday – stood pockets of people busying themselves purely with launching glasses and shouting about how much they love The Dandy Warhols, clearly there just hoping to see notoriously explosive frontman Anton Newcombe kick things off.
But it never came. Rising above the taunts of his detractors with nothing more than a couple of dignified "fuck off!"s, Anton deliberately kept a low-profile presence hidden away at the side of the crowded stage, letting mute resident tambourine-banging percussionist and almost-Bez Joel Gion (of "go on, Joel!" fame) take center-stage for the duration, wisely taking the majority of the spotlight away from the elephant in the room and letting the music speak for itself.
And what music it is. With a set-list comprised mainly of tracks from their ridiculously prolific 'classic' period of 1996 to 1998 and featuring very little in the way of anything newer, the show was always going to be a crowd-pleaser and was clearly designed as such, but – and maybe I'm just being biased because I was, y'know, there – no-one, both crowd and band alike, was expecting the kind of reaction that their performance ended up eliciting. Strolling onto the stage without a word following a short slot by support act The See See (4/10; the BJM but louder and less tuneful), and launching straight into the distinctive, droning introductory strains of "Super-Sonic", the roars instantly filled the rafters and must have put the fear of God into those hoping for a "quiet one" (they were about; the kind of idiots that tell you to "take it easy, mate", in a tone that suggests you're moshing in a crèche). Everything you wanted to be there was; "Servo", "Vacuum Boots", "Oh Lord", "Anenome", "Who?", welcome surprises in "Going to Hell" and "Let Me Stand Next to Your Flower" and – about half way through – "Not if You Were The Last Dandy on Earth".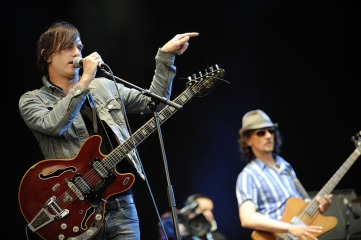 Even I didn't see the sheer madness of "Dandy" coming. Right from the outset it was all I could do to stop myself from tumbling over and being trampled underfoot by a bunch of newly-shirtless lunactics, and I'm six foot three, so I'd hate to think what that oh-so-brilliant anti-poseur anthem did to the more vertically-challenged around me. Well, actually, I do know how one dealt with it; a charming young lady climbed on my friend's shoulders and, upon dismounting post-song, charmingly announced that he had her "pussy sweat all over" him.
The crowd were lively right from the start, but after "Dandy" it was a whole different kind of lively, and the nine (!) band members on stage clearly thrived from it. Well, not openly of course; they're rock stars, they don't smile. Well, not in public at least, but when the crowd spontaneously launched into the age-old chant that is "let's go fucking mental, let's go fucking mental, la-la-la-la", etc., (recently incorporated, notably, into a God-awful new song from the BJM's latest effort, Who Killed Sgt. Pepper?) drowning out the band and delaying the next song, newly-returned guitarist Matt Hollywood looked like he was trying to suppress a grin so much his face might crack. And with regards to said chant; yes, I know it's tired and it's yobbish, but at the time it just felt appropriate. So shoot me.
Almost two and a half hours after rolling onto the stage, the Brian Jonestown juggernaut finally ground to a halt, a bittersweet but welcome relief for those of us bloodied, soaked, losing possessions fast (why on Earth did I think it would be a good idea to wear bracelets?) and awash in a sea of tinnitus. There was no encore, but we didn't need one; the band had been perfect and the atmosphere even better. And so we left, displaying our massive grins and assortment of bruises to rest of Manchester-like hard-won trophies, and praying that Anton doesn't accidentally kill himself before they chance to tour again.
RIYL: The Dandy Warhols, The Warlocks, Spacemen 3, The Black Angels, Darker My Love, Dead Meadow, Black Rebel Motorcycle Club, Spiritualized, 13th Floor Elevators, The Jesus and Mary Chain, Ride, Wooden Shjips, My Bloody Valentine, The Velvet Underground, Comets on Fire, Galaxie 500, Deerhunter
——————————————————————————————
The Brian Jonestown Massacre – Who?

[audio:http://mineorecords.com/mp3/bjones-who.mp3]
——————————————————————————————
The Brian Jonestown Massacre – (David Bowie I Love You) Since I Was Six

[audio:http://mineorecords.com/mp3/bjones-dav.mp3]
——————————————————————————————
The Brian Jonestown Massacre – Not If You Were the Last Dandy on Earth

[audio:http://mineorecords.com/mp3/bjones-not.mp3]
——————————————————————————————
You can view the rest of their 2010 tour dates here.