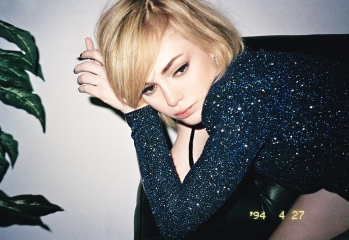 by Lauren Tischler
You could start by telling me the origin of your name. Is "Uffie" your birth name?
Ah! Uffie is the nickname actually my dad gave me. "œuf" is an egg in French, so that somehow turned into Uffie before I can even remember.
You are currently in Paris, but where did you grow up?
I was born in Miami actually, I moved to Hong Kong when I was four, and then I moved back to Florida: Miami, Fort Lauderdale. Then Connecticut, then Missouri for a while, and then Paris when I was 15.
You've been there for awhile then. How does Paris compare to any of the other places you've lived?
You can walk everywhere, which is nice. The food's amazing. It just really has a slower pace, everyone enjoys life here. They take their time, long dinners. It just has really calm vibes, and there is always something to do, always an exhibition happening. It's a very good balance.
So how did you get into rap from that childhood?
I started listening to a lot of hip hop when I came back from the US to Hong Kong. And when I started making music, I was friends with DJ Feadz, and he was kind of pushing me to do vocals for him, so I wrote "Pop the Glock". And things just kind of went crazy from there!
Obviously! So "Sex Dreams and Denim Jeans" is finally set to be released really soon. Can you tell me a little bit of why there was such a delay on the album?
Yeah, this is the golden question! What people don't really realize is that "Pop the Glock" was the first one I made. You don't magically find your complete musical sound. It takes time, years. And we were touring non-stop for two and a half, three years, so I only had time to go into the studio like, a day a month, which is not very much! And then I had a baby, so it was just a bunch of stuff combined.
Can you tell me a little bit of how your studio time was? I know you worked with Pharrell a bit
Sadly with Pharell, we didn't get to go into the studio together, but he was so lovely on the video shoot, the guy's amazing. Super generous, super humble. I started with Feadz and Mr. Oizo, and then finished with Mirwais. Recording with him (Mirwais) was amazing. He's a legend, definitely one of my mentors, heroes. And Matt Safer was in town one day. He's an old friend, so I contacted him because he wanted to work of "Illusion of Love" with me, and his voice just fit the song so perfectly. Everything just kind of fell into place. Just, very slowly!
Is there anyone you really want to collaborate with?
I'd love to work with Pharrell as a producer.
I know your lyrics are pretty out there, definitely rebellious, and not everyone gets it. What do you say to the people who talk shit about you or your music?
Well you know, everyone has their cup of tea. They're entitled to their opinion. I would much rather them love it or hate it then have people say,"oh, so so." I mean, not everyone is going to always like what you do, so you just have to just keep your head up!
Have you ever had any odd encounters with fans?
Not really yet, I kind of live in a little bubble. I guess when you're in the center of it, you don't really see everything that's going on around you.
So what are you trying to achieve with your music, lyrics, albums, etc.?
Well, what I'm hoping for this album (Sex Dreams and Denim Jeans) is, from eighteen to twenty-one you change a lot, so obviously the music evolved. I wanted to go a bit deeper, go more into rock and singing. So hopefully the people who originally liked my music will follow it.
Do you have a favorite show experience?
Definitely playing with Pharrell in Japan, when I was nineteen.
So people are obviously very excited about your album, what do you have to say on it?
It's really just the chronicles of my years. All the adventures I've had in the past four years are on it. It gets a lot deeper in feelings. It's no longer just a fun party.
RIYL: Justice, Robyn, Crystal Castles, Feadz, Mr. Oizo, HeartsRevolution, SebastiAn, Crookers, Boys Noize, The Bloody Beetroots, MSTRKRFT, Ke$ha, Peaches, Yelle, New Young Pony Club, M.I.A., Surkin
——————————————————————————————
——————————————————————————————
——————————————————————————————
——————————————————————————————