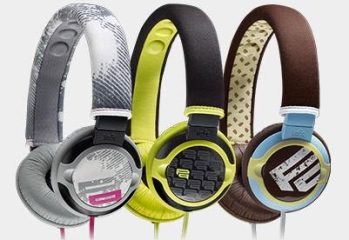 congrats to Marc, Hans, Andy, Mariesa, and Sam! your PiiQ headphones will be on their way soon. thanks to all that participated; more soon!
We are giving away FIVE sets of the new "PiiQ" headphones from Sony. Currently running in five different styles ranging from $15 to $100, the design beckons urban culture more than hip independence, but the universal appeal for sound quality is loud and clear.
I had the chance to check out the Giiq model for a week. To be fair, I only host contests if the prizes are of actual quality. These headphones certainly abide by that standard. The Sony name immediately supplies some security, while the wide variety of styles and colors is a great retreat from the conventional "black" or "white" purchasing options. Designed by Rui Morisawa, the sleek look of all five brands is a definite appeal to a skating or urban lifestyle. But when it comes to the actual audio quality, the price is well worth it. The $50 Giiq is cushioned for comfort and sports a great design, which could make many think the $50 price tag is for the look alone. Not true. The audio quality is comparable to many headphones in the $100 price range and is a perfect fit for both long walks and studio adventures. While the Marqii, Giiq, and Triqii are too big and bulky to serve as workout headphones, the Qlasp and Exhale models are a great alternative for workouts. I have yet to try the others, but the Giiq model is excellent. I can only assume the others are just as great, albeit with different intentions of use. Some are clearly lounging headphones with impeccable audio quality, while others capitalize on portability and do so with sleekness and audible consistency. Each one excels in its different use.
These are the five different types of Sony PiiQ headphones you are eligible to win. Check here for pictures and more detailed information:
* Marqii™ – ($99.99) Build quality. Cush feel. Supreme sound. Slider stay-power – inspired by snowboard lock, fasten it tight to fit your crown. Flat detachable cord to prevent tangle and quick unplug.
* Giiq™ – ($49.99) Hi-Fi without the heft. Flex motion cups and slick-skinned cord doesn't crimp your style. Neodymium, the strongest permanent magnet known to humankind, delivers a crystal clear, robust sound.
* Triqii™ – ($29.99) Wears like a favorite deck or pair. Scar-resist skin stays neat through thick and thin. With big bass boost and super sound clarity.
* Qlasp™ – ($24.99) Lobe linger is a good thing. Crystal clear, in-ear sound. Clips on and hangs tough through all your tricks, flips and whatever.
* Exhale™ – ($14.99) Big beat bluster in a bud body with a secret, sound-boosting motif. Only the masq knows…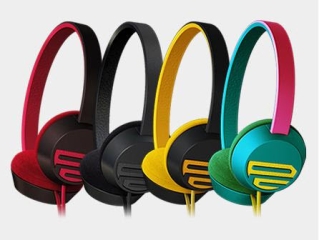 So, how do you win? It is very simple. Comment on this post, providing a brief account of your favorite album from this year thus far. Keep it short and concise… essentially, just supply a recommendation. If you show me something new and worthwhile, then your chances of winning are certainly increased. The objective of this should be to win some prizes and spread the love for some great new artists in the process. It's a win-win, in my mind.
In addition to your submission, it is important to supply your REAL e-mail address when prompted in the comment form. If you win, this is how you will be contacted. At that point, you would just tell me where you want your new PiiQ headphones shipped and it will arrive there ASAP. If you do not reply within 24 hours, a new winner will be chosen. Best of luck!
For more information, check out the PiiQ Facebook page.