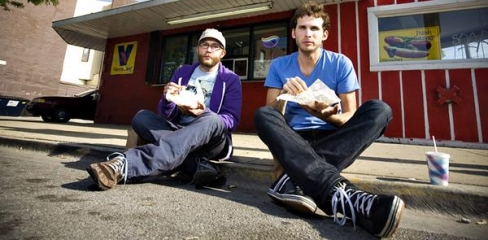 by Jay Mattson
Little did I know that by coming to South Korea, it would be easier than ever for me to see good music.  I come from Greensboro, North Carolina, and the usual process in seeing a good show involves traveling one to three hours to either Raleigh, Chapel Hill or Asheville, then driving home after the set is finished.  It's a pain, to say the least. Since being in Daegu, South Korea, I've been able to see fantastic shows at venues literally 10 minutes (by taxi) away from my apartment, and last week, The Hood Internet stormed Korea for the first time.
If you're not familiar with the Hood Internet, they are a DJ duo. Aaron Brink (or ABX) and Steve Reidell (or STV SLV) hail from Chicago and they produce mash-ups with hip-hop/rap lyrics laid over indie rock songs.  A comparison can be drawn to Girl Talk, but that does them some injustice, as I find the Hood Internet's song-blending to be quite elegant and intuitive as opposed to Girl Talk's ADHD approach.
Last week, Korea's finest show promoters, SuperColorSuper, brought the boys to Daegu's Club Urban, a bar/club usually teeming with gangstas and American soldiers. Though that night, it was mostly us indie kids waiting for some awesome mash-ups.  In Korea, 'dance club' usually translates to techno/rave/electronic bass-fests that are difficult to embrace unless you're pretty hammered.  This was one of the primary reasons I was so excited for The Hood Internet to come to Daegu; I miss dance parties in the States and I knew they would bring one.
And indeed they did!  For a full two hours, everyone at Urban danced to their heart's content.  It was an excellent show full of awesome songs (my favorites were the Matt & Kim vs. the Beastie Boys and Passion Pit vs. Juvenile), fantastic beats and excellent energy that never slowed down.  After the show, I was invited by a SuperColorSuper representative in Daegu (their headquarters are in Seoul) to join him and the The Hood Internet for lunch the next day before they had to leave for Busan, the location of their Friday night show.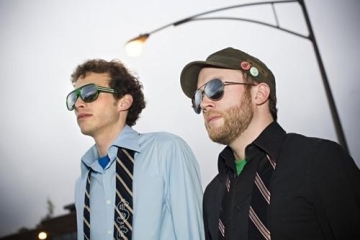 The next day, Daegu's SuperColorSuper coordinators, myself and the Brink and Reidell traversed the windy streets of Daegu to find an excellent traditional Korean restaurant.  We sat, ordered, and I proceeded talk with Brink and Reidell about touring, how they met, and their music in general.
The Hood Internet 'tours' on a very different schedule than most artists.  Because of Brink's real life job (student counselor at the University of North Carolina at Charlotte), the duo usually plays shows exclusively on weekends.  For this instance, the boys flew to Korea separately (Reidell from Chicago and Brink from North Carolina) to play three shows before Brink had to be back to work on Monday morning.  When I asked why, Reidell replied "Who really wants to come out on a Monday night to dance and get all sweaty at a Hood Internet show?" And while weekend shows are the norm, there have been instances of weekday performances.  Reidell mused about a Hood Internet show a few months back that was combined with Tobacco, Small Black and Washed Out in Portland.
From time to time, our conversation digressed into discussing Korea.  Though it is one of the most economically advanced countries in the world, many bands have never traveled to the Land of the Morning Calm.  Both Reidell and Brink expressed interest in Korea, citing the food, region-specific alcohol (soju and makgeoli) and overall feel of this very Asian country.
The origins of the Hood Internet are interesting, as well.  After both of their college bands bit the dust, Reidell and Brink moved to Chicago and started a new band together.  After a few years, the two friends decided to branch out on their own and tackled the emerging mash-up scene.  This decision has taken the two DJs all over the USA, Canada, and to various international locales, all of which is fine with them.  "We love seeing new places," said Reidell.
All of The Hood Internet's mixtapes and albums are available for listening at their website.
RIYL: Girl Talk, E-603, Easter Egg, Super Mash Bros., Team Teamwork, Kid Sister, Max Tannone, Major Lazer, La Roux, The Kleptones, DJ Earworm, Hollertronix
——————————————————————————————
The Hood Internet – Shoeing Horses in 1901 (Phoenix x Why?)
——————————————————————————————
The Hood Internet – Trey-dio Departmentz (Trey Songz x The Radio Dept.)

——————————————————————————————
The Hood Internet – Feel It on the South Side (Birdman x Washed Out)
——————————————————————————————