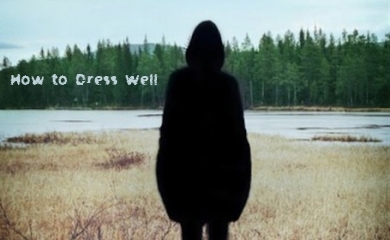 How to Dress Well? The name sounds like some early 19th century etiquette pamphlet. Things like that tend to lose relevance after a decade. But like all remnants, they maintain historical value. Music, like all forms of art, provides timeless durability in the sheer experience of it, even if historical relevance provides varying outlooks on the theme or style. At heart though, the timeless characteristics of art resound consistently; the point in time of one's experience inspires variables of reception and accessibility, dependent on social and technological standards of the time. But when it comes down to it, the witnessing of art presents feelings conceived no differently than they were hundreds of years ago.
The brains behind How to Dress Well, Tom Krell, provides a twist on the whole experience. His music is instantly familiar, injected with doses of R&B, soul, and pop that actually reach radio-friendly points of accessibility. Of course, when soaked in reverb, adorned with an echoed falsetto, and featuring a modernistic synth-laden sound, the clashing of both varying degrees of accessibility and time periods leaves room for plenty of great ideas. For Krell, comparisons to chillwave trademarks like Washed Out and Neon Indian are imminent based on his production alone. But How to Dress Well fall more in the vein of Ariel Pink, who uses his adoration for '60s/'70s frontman art-rock to create a sound that is both hauntingly sad and infectiously vibrant. Of course, Neon Indian's "Deadbeat Summer" just barely shows the extent of frontman Alan Palomo's undying love for Todd Rundgren. But even the "Izzat Love" sample aside, the song sounded distinctively modern.
Unlike past motivators of the "chillwave" movement, Krell creates a sort of timeless whimsy within his beautifully fragile sound. Their music resounds with no particular decade, instead offering a meshing of both nostalgic and futuristic styles that bring out a variety of guesses from "some '80s post-punk variant" to "Michael Jackson if he just chilled on blunts instead of pills". The latter shows some indication of Krell's obvious rhythmic ability, but more so in his vibrating falsetto that brings comparisons to MJ, Bon Iver's Justin Vernon, and even at times Antony Hegarty. Krell's approach is, for the most part, what brings him such individual success though. His high pitch is not supposed to sound this great under a caressing assortment of synth pads and distorted bass. It does though. You really need to have your vocal rhythm down for that. And in that sense, Krell shows some outstanding talent in both his songwriting and vocal work, showcasing an ambiguous enigma that – for once – does not reek of pretension or greed. Just a genuine love for music of the past, present, and future. That is one aspect of this "chillwave" thing anyone could get behind.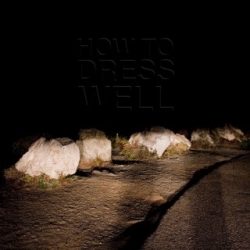 Krell's innovation is evident throughout the bulk of Love Remains, his debut full-length. His song are all treated with such delicate care, but the differences in ferocity are certainly evident. A track like "My Body" is solemn from the get-go, incorporating a series of layered falsetto that sound like a haunted choir. This in particular is reminiscent of Sigur Rós' Jónsi. "We were known for the choice that we do, I was hoping for the rain, I was hoping for you," Krell sings after percussion – which is used sparingly throughout Love Remains – enters the fold. The rhythm here is particularly important because the song's R&B influence is extremely pronounced, with Krell even incorporating the post-verse falsetto yelps that artists like The-Dream show mastery of.
"Suicide Dream 2" is one of the more unclassifiable songs on the album, meaning that comparisons to R&B and pop take a backseat to serene electronica that sits somewhere between ambiance and soundtrack. If anything, the vein of dubstep that Burial specializes in is the focus here. The twinkling synths emit a melancholy feel that steadily repeats, its tempo and volume never shifting. Instead, Krell's voice is what exhibits the emotional transitions; he is able to craft stellar hooks on his own with rare preciseness. His unconventional pitch is often the culprit of emotionally-charged mastery. Songs like "Escape Before the Rain" rely on little more than a simplistic piano progression, as echoey click-clacking and whirs of synth in the background provide a deeper audible experience. But Krell's voice is almost always the emphasis, even around the 01:45 mark when he gives way to the piano loop. His return is imminent of course, and as soulful as ever. I can nearly guarantee that he is going to give chills to any attentive listener (and by attentive, I mean this is the type of artist that you must use good headphones or a stereo to listen to).
A flurry of funk is present in the vibrant rhythm section of "Endless Rain", which incorporates a DJ Shadow-like loop clip for gradual accentuation. It would be really great to hear a studio version of "Walking This Dumb", but the live version presented on Love Remains is more than adequate quality. The little crackle in the live bass just adds to the allure. This is certainly one of Krell's more dance-heavy songs, riding on a distorted chorus that sounds more Girls Aloud than Burial. The intensity of the following song, "Date of Birth", brings us back to an intenser Krell though. His panting during the progression of string-like synths flows into a distant echoed croon, the song fading out as it progresses. Like most of Krell's songs, it would fit perfectly as a soundtrack to a dream. Whether the dream is a haunting nightmare, sex-charged romp, or adventure on a night bus is up to you.
RIYL: Burial, Washed Out, Neon Indian, Ariel Pink's Haunted Graffiti, Gauntlet Hair, Memoryhouse, Toro y Moi, Wild Nothing, Active Child, Best Coast, Beach Fossils, Pure Ecstasy, Big Spider's Back, Cults, Tanlines, DOM, Memory Cassette, Kisses, Eternal Summers, Golden Ages, Nite Jewel