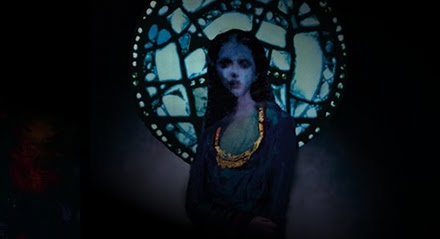 My first contribution to PopMatters was a review of Hurtbreak Wonderland, an album by World's End Girlfriend that was so masterful it convinced me to make an effort to show others. At that time (2007), Obscure Sound had not picked up much yet, so in the case of exposing quality music it was more difficult than now. So I joined PopMatters to improve my writing, but also to expose Hurtbreak Wonderland, an album too bizarre for conventional purposes but with enough creative energy to stun anyone accustomed to broadening their audible horizons. I would give it an even higher score than an 8 now, if only for the fact that no artist has released anything comparable in the world of sample-laden post-rock that resembled a soundtrack to the real version of Dante's Inferno. Well, as you can see by that elongated "description" alone, I should have anticipated the lack of competition.
The mastermind of World's End Girlfriend, Katsuhiko Maeda, took an unusually large absence the past three years. The complete lack of albums and EPs since 2007 is startling for Maeda, who is accustomed to multiple releases per year. The time away saw him touring, writing the soundtrack for Hirokazu Koreeda's bizarre
Air Doll, and preparing for his tenth studio release, Seven Idiots. As an angular release, it heightens the emphasis on rock instrumentation by incorporating guitars and percussion more than past efforts. Maeda continues to use a variety of methods to mimic percussion, from sampling to studio sessions, though his most interesting work in this spectrum usually falls in the genre of glitch-pop and IDM.
"Helter Skelter Cha-Cha-Cha" has little to do with the Beatles track of a similar name. Maeda's music has always been unsettling despite its beautiful arrangements and that continues here. He simply has so much going on at once, with structures remaining wildly unpredictable and arrangements consisting of an absurd amount of sounds and layers, that the chaos can cause one to feel hectic. As an artistic achievement though, the unique experience of World's End Girlfriend in itself is something that few artists can accomplish. Maeda has no barriers to speak of, his experimental tendencies becoming absorbed in his multi-instrumental ability to produce sounds expected both from a fully-blown orchestra and a DIY indie-rocker in his basement. He is seemingly able to succeed in both formats.
"Galaxy Kid 666" is one of the easier tracks to swallow on the fascinating Seven Idiots. The strings find a calming and luxurious tone for once, while finding comfort in the fantastic additions by an electric guitar that resembles conventional Japanese rock acts like The B'z and Southern All Stars in its delivery. Tak Matsumoto could have made a convenient cameo here if he wanted to. The song shifts between the excitable strings, languishing guitar, and glitchy electronic effects, the latter of which are used primarily as percussion or structural bridges that enable transport to grander, more intense arrangements, like the halted assortment of guitars and strings in the song's final two minutes.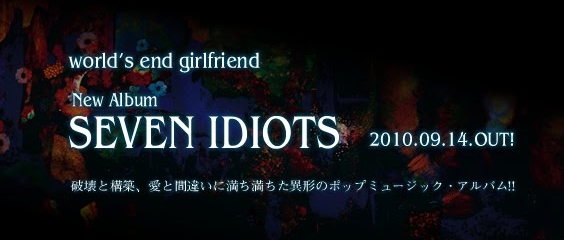 The three-part "Bohemian Purgatory" is more typical of Maeda. But keep in mind, typical for Maeda is wonderfully eccentric for anyone else. This composition stretches nearly 23 minutes, placed directly in the middle of the album. After the excitably infectious "Galaxy Kid 666", finding the first moments of "Bohemian Purgatory" as a might take a bit getting used to. But for this epic there is plenty of time for that. Overall, as it evolves from monophonic choir to a dizzying array of woodwinds, saxophones, and percussion, there is a medieval feel that resounds strongly. This is phased out when a seductive saxophone wanders in, almost sounding as if it is dancing with the keys. The feeling is somber as usual, but the percussion suggests a bit of optimism in its multiple stomps every verse. The keys are high-pitched and play like a possessed nursery rhyme though, and when the strings + key combination envelope the entire track around 04:15, there is a harp-like progression that ushers in the track's point of intensity. The tremolo of strings signals this, and the rest of the effort's first section lives up to its lofty potential.
Maeda's 2005 release, the exceptional The Lie Lay Land, was largely dependent on the utilization of audio samples, mainly extracted from the likes of obscure horror films and offbeat documentaries. Hurtbreak Wonderland was largely an instrumental record, though sounds of the creaking of a door in "Bless Yourself Bleed" or the sound of rainfall in "River Was Filled With Stories" showed a more subtle and less reliant approach in regard to samples. This ideology is continued Seven Idiots, where samples .
The second part of "Bohemian Purgatory" is bouncier, almost resembling the squiggly electro-pop of Matmos during the song's mid-section. But as it descends momentarily into keys that would sound appropriate for any film where children are possessed, the joyous laughter of one is utilized with percision. The saxophone that follows nearly seems sarcastic, injecting a breezy melody within a very intensifying build-up. Some choices will make listeners scratch their heads, but by the completion of the song they surely be satisfied. Maeda's consummate vision almost always comes out, like in this song where the conclusion is heavily dependent on a sax that reverts to the chaotic and haunting feel of its accompanying instruments. Any time there is a three-part, 25-minute Maeda song I have a lot of expectations. These were certainly met with "Bohemian Purgatory".
"Der Spiegel im Spiegel im Spiegel" is extremely interesting for Maeda, being the most acoustic he gets on Seven Idiots. Well, acoustic in this sense may be different from what you are expecting.The song is ridiculously sporadic, showing no hestiation for silence and then subsequent bursts of brass and strings. Sure, you will be able to hear jazz or funk influences, but it will only be a snippet. I am not a huge fan of Maeda's more percussively jumbled efforts like this, as cut-and-paste jobs are the farthest thing to describe Maeda's work. This sounds cool, with the oddly plucked guitars and sampled screams, but the amount of substance does not compare to other efforts on Seven Idiots.
Despite some missteps, Seven Idiots is an excellent addition to Maeda's vastly underrated discography. It presents a sound that you likely never heard before, with fascinating production continuing to emphasize Maeda's compositional prowess. And if you did happen to hear something like this before, I want to know which of the nine circles you visited.
RIYL: Mono, Matryoshka, Kashiwa Daisuke, Anoice, Yasushi Yoshida, Akira Kosemura, Piana, Haruka Nakamura, Takahiro Kido, Gutevolk, ????, Spangle call Lilli line, Kazumasa Hashimoto, toe, Syrup16g, sleepy.ab, The Boredoms, Scott Walker, Motohiro Nakashima, Aus, Supercar, ART-SCHOOL
MP3: Galaxy Kid 666
MP3: Teen Age Ziggy