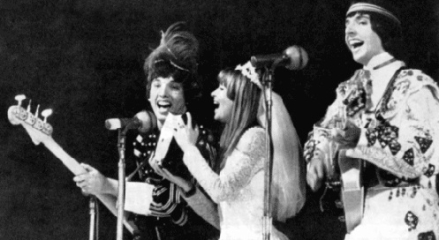 Os Mutantes are one of few artists that are truly inter-generational. Even apart from their long-standing tenure, the influential Brazilian psychedelic-rockers play music that is received amiably by audiences of all ages and backgrounds. When I saw them live this past Saturday at Webster Hall, the somewhat obnoxious crowd there for opener Ariel Pink began to dissipate after he finished his set with a rousing version of "Butt-House Blondies" (this time with the guitar solo, unlike at Irving Plaza in July). As a big Ariel Pink fan, I was disappointed with the poor sound quality at Webster Hall. The band was putting in quite the effort, but the sound was muddled and vague – perhaps on account of the discordant tones of Diva Dompe, who opened for Ariel with unconvincing blandness. I had seen Ariel Pink live before though, so the night was hardly spoiled at this point.
I mainly went to see Os Mutantes, who had reformed in 2006 after not playing together for nearly twenty years. Helmed by the two Baptista brothers Arnaldo and Sérgio, Os Mutantes produced extremely impressive and influential work in the late '60s and early '70s. Their first three albums are widely considered to be overlooked masterpieces. I knew it was a privilege for me to see such a respected band live, so the disappointing opening acts hardly derailed the excitement. It was a good thing too; Os Mutantes put on one of the greatest performances I have ever seen.
Although the group looks different from their beginnings (Arnaldo and singer Rita Lee are absent), steady founder Sérgio Baptista (going under Sérgio Dias) and some of the finest musicians around replicated their early favorites perfectly. I was so stunned when they opened with "Caminhante Noturno", perhaps my favorite Mutantes track. I find it to be the perfect descriptor of why Os Mutantes are so wonderful: a frenzy of soaring psychedelic vocals, blaring horns, and Beatlesque harmonies collide for a show-stopper. The chorus – when Sérgio's voice raises pitch under a brilliant transition that sounds like the setting of a Parisian carnival – showcases exuberance that sends chills up my spine on record. It did the same live.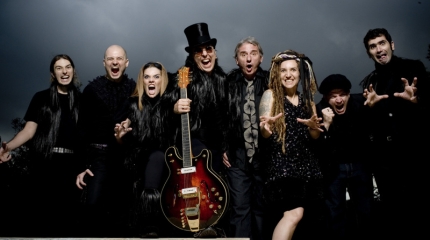 You can spot some influences like The Beatles and The Kinks, but beyond their conventional pop moments no one was making music like Os Mutantes' in the late '60s. The conclusion of "Caminhante Noturno", where he supplements the carnival sound with a bodacious operatic vocal turn, is the perfect signifier of the ceaseless variation and expert musicianship present in Os Mutantes' songs. The popular "Panis et circenses" – one of their several covers of Caetano Veloso – showcases similar strides, and its performance on Saturday was similarly effective.
In celebration of their 2006 reunion, Os Mutantes released their first studio album since 1974 in 2009. Haih Or Amortecedor is more in the vein of Jardim Elétrico – a more restrained release that marked the last of early Os Mutantes classics – and it offered a band that still sounded fresher than many contemporary surveyors of tropicália, a style that Os Mutantes was a major pioneer in. In addition to appropriately themed efforts like "Tecnicolor", Sérgio and company played some newer songs like the stylish "Bagdad Blues". If I were to choose, I'd limit their set to their first four albums. Their later material is good, but the early stuff blows my mind routinely. It is the type of music that anyone – from your parents to your clueless nephew – can appreciate. Defining Os Mutantes' style is impossible, as their range extends from entirely innovative and epic pop ("Caminhante Noturno") and seductive organ-infused psychedelia ("Meu Refrigerador Não Funciona") to infectious blues (their earliest and best version of Veloso's "Baby") and Beatles mutations ("Lady, Lady" and "Virgínia").
It can always be daunting to dig into an unfamiliar band with nearly a dozen albums. But, if you haven't heard Os Mutantes yet, you have to trust me on this one. Their first three albums – Os Mutantes, Mutantes, and A Divina Comédia ou Ando Meio Desligado – are severely overlooked and music historians will eventually agree, if they haven't already, that they contain some of the most essential and innovative moments in popular music of the '60s and '70s.
RIYL: Tom Zé, Novos Baianos, Pizzicato Five, Rita Lee, Chico Buarque, Caetano Veloso, Tim Maia, Raul Seixas, Jorge Ben, Gilberto Gil, Cartola
Os Mutantes – Caminhante Noturno
Os Mutantes – Meu Refrigerador Não Funciona
Os Mutantes – Panis Et Circensis
Previews of more Os Mutantes tracks can be found here.