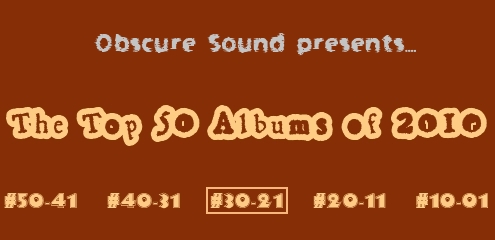 #50 to #41 ——— #40 to #31 ——— #30 to #21 ——— #20 to #11 ——— #10 to #01
by Mike Mineo
—————————————————————————————————————————————————————–
30. Titus Andronicus – The Monitor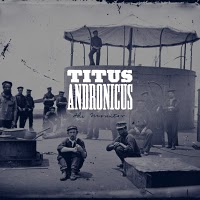 The first track on Titus Andronicus' second album, The Monitor, borrows aspects of Springsteen's "Born to Run" – both lyrically and melodically – but embraces the influence in a more distorted, ramped-up vein. He talks about speeding on the highway, cruel New England weather, and regrets over leaving New Jersey, the band's home state. They follow peers like The Hold Steady and Drive-By Truckers in making raucously fun music, one that borrows a lot of Springsteen, dabs of punk-rock from The Sex Pistols, and fuzzy '90s alt-rock like Weezer and The Pixies. The guitar solo in the abrupt anthem "Titus Andronicus Forever" occurs less than a minute in, and adds great variety to a track full of distorted chaos and blaring percussive clamoring. It ends with a monotonous reading of Abraham Lincoln's dispiriting quote: "I am now the most miserable man living. If what I feel were equally distributed to the whole human family, there would not be one cheerful face on the earth." Combine such sentiments with the blue-collar feel of the album cover and content within (the album was named after a Navy battleship), and you still have an album intent on exploring rambunctious hooks and enthusiastic spontaneity. But it is not without a serious note here and there about the civil war, monetary struggles, or repression in general. It is a sign of growth from the band on several levels, certainly in producing a coherent theme but more importantly in the evolutionary nature of their music. It would be incredibly easy for them to become a victim of imitation, but the aggressively clawing of their excellent guitar interplay, sing-aloud-in-a-bar quality hooks, and enthusiasm in general make their music easily distinguishable.
"Four Score and Seven" is arguably the most ambitious effort on the album. The exposure of Celtic-rock – more common north of New Jersey – is not difficult to spot, especially on a track like this where shivering strings complement an acoustical celtic-folk melody beautifully. Visions of Jersey return shortly thereafter with a Springsteen-esque harmonica solo taking lead, subtly complemented by a light guitar progression panned to the left. "But when they see the kind of person that you really are, then you won't be laughing so hard," he sings with convincing vigor. The comparisons to Bright Eyes are incredibly clear here, as Conor Oberst's similar bursts of impulse-emotion produce comparable authenticity and effect. What happens next is more expected from the likes of . Trumpets and other brass collide over a workerman's hum of sorts, paving way for the Andronicus' trademark: gritty Celtic-rock. This part nearly reaches spoken-word, where he sings of struggle in a frustrated tone that tactfully avoids discordance. The band's narrative progress is rapidly improving, it seems, and the blaring anthems are just as memorable and excitable as they were on their debut, The Airing of Grievances. Surprisingly, The Monitor manages to be even better than its predecessor.
Titus Andronicus – Four Score and Seven
Official Site / MySpace / BUY
—————————————————————————————————————————————————————–
29. Grinderman – Grinderman 2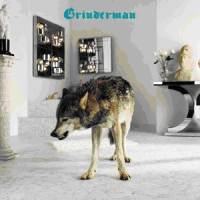 Nick Cave, in my opinion, is one of the most interesting songwriters on the face of the earth. There is rarely urgency in his material, even as recovery from dejection and angst appear as constant themes over a plethora of styles. He treats his stylistic ambition with care though; his albums rely on the focus that makes Cave one of the best songwriters of the past several decades. They do not jump indecisively from one to another, but rather focus on building a style as a whole throughout the album. With this in mind, it is not surprising that Cave has several projects indebted to specific stylistic outputs. He formed Grinderman in 2006 and released their self-titled debut a year later, showcasing a style relative to his youth. Fans of The Birthday Party will generally be reminded of when Nick Cave was its frontman, but Grinderman's second album relies less on gloomy stereotypes and more on good old rock 'n' roll. Listeners may struggle to piece together Cave's non-sequiturs from time to time, but the structures and instrumentation are more adventurous than anything Cave has released in years. His material from the past fifteen years has silenced anyone claiming his success to be dependent on the darkness of heroin addiction (which he quit in the late '90s), and in the past several years he has released some of his best material since mid-'90s classics like Let Love In and The Boatman's Call. Talent like Cave's does not simply extinguish itself due to a drug addiction. After a slight lull a few years ago, his songwriting continues to grow with fascinating detail. 2008's Dig, Lazarus, Dig!!! was personally my favorite Cave release since the tortured pleas on The Boatman's Call, which definitively established him as one of the most successfully emotive songwriters on the planet. His lyrics read like poetry and his music provides startlingly appropriate accompaniments; he is a rock artist with the ideologies of one conditioned to jazz, folk, or other instrumentally narrative examples.
The bluesy "Heathen Child" does not rely so much on Cave's lyrics to establish its powerful roar. Rather, it is the feel that lines like "Here comes the wolfman, hey little momo, saying 'hey little momo'" over suitably venomous instrumentation that establishes an eerie feel correspondent to screeching guitars and fizzy bass. "She got a little gun, she got a little poison, got a little gun… sitting in the bathtub, sucking her thumb", Cave groans, noting how she was raised by beasts, vultures, and does not believe in Krishna, Allah, or anything at all. When he lets out "she's a heeaaathen child" over the distorted twang of guitars, it is hard to resist the visions that come forth with it. Essentially, it would be difficult to place any of these songs in a film since it seems like Cave essentially crafts his own unique screenplay to each album. For this one, "suspenseful horror in a small-town" is certainly the genre. Grinderman 2 does not let up once throughout its duration either. "Mickey Mouse and the Goodbye Man" plays with a feel similar to "Heathen Child", only this time with more vivid imagery. "I was lying there with just my brother, we could hear someone rattling the locks," he sings. "I was a Mickey Mouse. He was a big bad wolf!" He later anticipates the arrival of a girl as she climbs up to his apartment, rising all the way to floor twenty-nine. "Come on baby, blow my mind!" he then exclaims, letting a crunchy guitar solo do the rest of the talking. Grinderman 2 represents Nick Cave theatrics at its best, which is an incomparably satisfying trip any fan of dark cinema or rock 'n' roll will love to death… until the wolfman tells the heathen child to hunt them down.
Grinderman – Mickey Mouse and the Goodbye Man
Official Site / MySpace / BUY
—————————————————————————————————————————————————————–
28. The-Dream – Love King
For his third album Love King, Terius Youngdell Nash had anticipated its huge marketing potential months before its release. The album's debut single of the same name is easily one of the best tracks of the year, and its premiere in mid-February certainly did not hurt the album's hype after Nash's big and busy year in 2009. The opening is exhilarating when one has the rest of the song in context, as spelling out the song's title before the trademark high-pitched synths and impeccable delivery presents itself like a calming before a storm, like a chant of sorts to gradually introduce one hell of a dance. "Does she like this song mine, mmm I doubt it," he sings, referencing the multitude of women in his life, from those "smart types" to just "the ones on my Sprint and AT&T". The song is undeniably catchy and the lyrics are constantly amusing without being vicious or profane, creating what is surely to be one of the most-played songs of the year on the radio. Los Da Mystro's knack for percussive brilliance is in full form this track, and over such flawlessly layered synths the music is unbeatable. Try to listen to this and resist having it stuck in your head a few hours later. Love King is absurdly addictive considering the amount of songs like this.
Rather than catering exclusively to an audience satisfied with every corporate pretty face in R&B and generic statement on urban culture, Terius Youngdell Nash provides hope for the genre's future in ways that few can compare. There is nothing wrong with catchy songs devoid of artistic presence, as demanding thought is not a necessity in quality music, but when these artists make millions over a decade because of clever collaborators and resoundingly ineffectual "culture" conversations, artists like Nash look like the least desperate and most artistically successful songwriters on the planet. "Make Up Bag" is a cohesive change of pace from the irresistible first single. Instead of being a glorified anthem, this is slightly more somber in its approach. A few words: "If you ever make your girlfriend mad, don't let your good girl go bad. Drop five stacks on the make-up bag." Simple enough, sure, but it is the delivery that truly makes this song great. A minimalist click-clacking of percussion stumbles over a sporadic bass burst and wavering synth provides the lead. The lyrical tone of these two tracks present a generally superficial approach to relationships, which is to expected. Nash is more analytical of this approach rather than conforming to it and encouraging it. With "Turnt Out", "Yamaha", "Priceless", and "F.I.L.A." also serving as some of the year's best tracks, Love King is the best R&B release of the year. Read more>>>
Official Site / MySpace / BUY
—————————————————————————————————————————————————————–
27. Surfer Blood – Astro Coast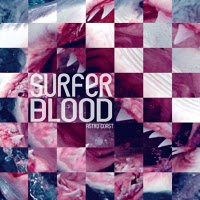 Surfer Blood's own unique style is something that should delight fans of modern indie-rock. The charming upbeat pop of The Shins is certainly present, as are groups like The Explorers Club that cling on to '60s pop and surf-rock through overlapping vocal harmonies, plucked tremolos, and lushly serene orchestration. Surfer Blood are a bit more modernistic than a group like The Explorers Club though, evidenced strongly by the variation in guitar tones and levels of distortion in addition to the lead vocals of John Paul Pitts. Amiable and accessible, Pitts always maintains a gleeful and whimsical croon that simultaneously recalls the sparkle-and-spit of James Mercer and versatility of Brian Wilson by aligning his vocal melodies with corresponding guitars. Like in surf-rock and power-pop alike, guitars are the driving force throughout Surfer Blood's debut album, Astro Coast. These are precisely the two influences at work most consistently too; surf-rock is abundant through its production techniques while the hooks and song structures themselves are more reflective of power-pop.
Astro Coast beckons a similar feeling to that of instrumental surf-rock when it emerged in the early '60s. "Neighbor Riffs" resembles post-punk and art-rock due to its selected melodic and tonal choices, but the structure is inherently that of how surf-rock instrumentals were. An initial bass line kicks off the effort and does not subside for the entire duration, instead serving as the source of opportunity for a multitude of dexterous guitar progressions that benefit from aspects like tremolo, reverb, and staccato that undoubtedly resemble conceptual surf-rock. "Twin Peaks" is also nicely demonstrative of this medium, seeing a verse that alternates between aptly implemented chirps of guitar and bursts of distortion before going into an exotic infusion of woodwinds and guitars backed by festival-like ambiance. That Surfer Blood are able to involve both of these conceptual ideas within mere seconds of one another is one of Astrocoast's many strengths. "Fast Jabroni" recalls the fuzzy dance-punk of the late '80s with its backing synths and excellent bridge, which uses cleverly engineered snippets of guitar arpeggios and strings to piece together a joyous chorus. The prominent synths along with Pitts' chirpy vocals would have allowed this to site well on Donnie Darko's soundtrack, where influences like Echo & the Bunnymen and The Church showcased the precursor to an effort like this in the background of rebellious and misdirected youth. There is a sort of concurrent wisdom and youthfulness found in Surfer Blood's work and it serves as a rare factor that will undoubtedly separate them from the masses. Read more>>>
—————————————————————————————————————————————————————–
26. Paul Weller – Wake up the Nation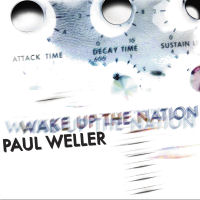 Like any new Damon Albarn project, Paul Weller is worth listening to whenever he releases something. He is easily one of the most recognizable figures in the UK for founding The Jam, The Style Council, and the illustrious solo career that followed. His tenth studio album, Wake Up the Nation, comes with lofty expectations since it follows up the massively successful release of 22 Dreams, which was Weller's third solo album that peaked at #1. While Wake Up the Nation is still distinctively a Weller solo album, it raises his intensity up a notch with a brisker and more punk-oriented sound that relies on short song lengths, spontaneous hooks, and rhythmic intensity. Unsurprisingly, the album's collaborators already accustomed to such a sound. Foxton's brisk bass work with The Jam is already long-renowned, and cameos from Kevin Shields (My Bloody Valentine), Bev Bevan (ELO, The Move), and drummer Clem Cattini help make this album full of imaginative and unique ideas. At the end of it all though, Weller emerges as the star presence. His successful forays into various genres foreshadow such an accomplishment before the release of each new album. The string-laden chorus of "No Tears Left to Cry" steps back a bit from the hurried approach of its two predecessors, finding a bit of sentimental Weller shine without ruining the album's flow. "Fast Car, Slow Traffic" has the same sort of spontaneous flow, with a sloppy dose of keys occasionally providing a nice flourish. This is quite an experimental effort considering its length, and Weller clearly has a new fascination with sampling and field sound effects that he employs well.
With some tracks like "Grasp and Still Connect" showing strings in the chorus and others like "Wake Up the Nation" going the conventional guitar-punk route, the differences between songs are subtle upon first listen but grow rapidly since the bulk of the album features standouts. It brings us back to Weller's phases with The Jam and early solo material, which saw shorter songs and more intensity as opposed to ambitious stylistic trips that were often extended (almost always for enjoyable purposes). While this is certainly an ambitious effort in its own right by constricting songs to under three minutes, utilizing a variety of samples, and employing improvisational spurts of keys and strings, Wake Up the Nation retains the hooks and accessible appeal necessary to retain Weller's role as one of the most beloved musicians in the UK. This has some heavy art-rock, funk, and jazz influences, which I feel American audiences could be very receptive toward when incorporated with Weller's trademark sound. Just check out the sprawling "Aim High" for such achievements in fusion.  Read more>>>
Official Site / MySpace / BUY
—————————————————————————————————————————————————————–
25. Lotus Feet – Animals in the Attic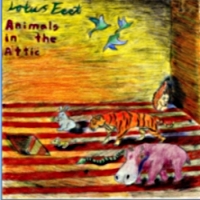 Kris Lorenz's solo project is the most unknown on this list. His bedroom recordings showcase his wonderful songwriting and revivalist tendencies and bring out the best of post-punk, goth-pop, and neo-psychedelia. "Early Bird" quickly transitions between haunting organ sounds and quick swipes of guitar, the former more in the vein of neo-psychedelia and the latter more like garage-rock. A lovely meshing of vintage sounds, to be sure, much like contemporaries in the vein of Ariel Pink. Lotus Feet show comfort in their influences only to a certain extent though, as their musicianship is apparent in itself. They draw upon Pink Floyd influences later in the track with clashing frequencies and samples, all retained over the original melody that is fixed in organs, guitars, and a very pronounced bass. The beginning will probably draw comparisons to The Doors first, since Jim Morrison's voice is naturally comparable all throughout Animals in the Attic. Think if ever Morrison was attached to a Pink Floyd project. Lotus Feet is the closest you can get to that, so it helps that the musicians involved are all impeccably collected. The icy keys in "Child's Play" sound like they would be at home in a Björk track, and it certainly sounds odd considering the two preceding tracks, " Early Bird" and "Evidence", represent brisk neo-psychedelia with a vast assortment of instrumentation.
By the time the chorus arrives in "Child's Play", with its caressing bass and reflective guitar tones, the serene feeling of psychedelia re-emerges. The production is strongly reminiscent of The Velvet Underground, with monotonous vocal deliveries emerging as champions over laid-back musical accompaniments that, underneath their placidity, are remarkably brilliant and complex. Lotus Feet could sound at home in any darkly mysterious film, particularly if David Lynch ever created some homage to the '70s psychedelic scene. That might be a mistake though, as Lotus Feet's music is the type that demands your attention. It will not reach conventional radio due to its broad scope, as the songs could delightfully stretch to 10+ minutes if need be and still sound adventurous and captivating. All eight songs on Animals in the Attic have their moment, per say, and most have several ones that recall nostalgically inventive songwriting at its finest. Speaking of David Lynch, "Sunshine" sounds like it could have been lifted straight out of Twin Peaks. A video of The Man From Another Place dancing along to this and snapping has fingers has to be out there somewhere. It solidifies the point that every song on Animals in the Attic is worthwhile, even if the sheer amount of ideas can be daunting to tackle. Give it a chance though. It is one of the most successfully ambitious albums of the year.
—————————————————————————————————————————————————————–
24. The Morning Benders – Big Echo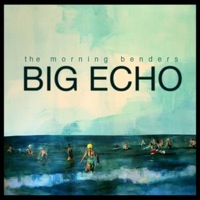 When I posted about The Morning Benders back in April 2006, it was only a month after the site formed and I was eager to cover something fresh and worthwhile. At the time, this site had little direction and my focus was sporadic, so anything to attain readers was desired. One thing was clear though, and that was the undeniable potential of this Californian four-piece. Their debut EP, Loose Change, is definitely one of the earliest memories I have of sharing great, new music to more than a room full of close friends. Weezer and Neutral Milk Hotel are certainly obvious influences, but unlike The Morning Benders' previous releases there is no feeling of replication on Big Echo. They have a nice arsenal of instrumentation that makes for some great moments, once again courtesy of new production advantages. The high-pitched marimba feel on "Cold War (Nice Clean Fight)" that slowly evolves into a addictive, folk-based sing-along is indicative of this, as is the subdued wave of organs on "Pleasure Sighs". The vocals here sit somewhere between Neil Young and Wayne Coyne, adjusted accordingly since the subsequent "Hand Me Downs" is more akin to The Walkmen's Hamilton Leithauser and the respective group's excellently unpredictable rhythm section.
The Walkmen find themselves to be an apt comparison as well, mainly because they are expanding upon the boundaries of traditional indie-rock led by guitars and keys without borrowing too heavily from the past. The guitars on "Pleasure Sighs" resound with heavy doses of reverb and intricate progressions, which under the slight touch of organs creates for a serene feel that fits perfectly in the middle of Big Echo. Away from the guitar-driven pop that marked most of their early releases, the ambition shown here alone marks The Morning Benders' revelation here. "Promises" is a strong example of this, though the epic demeanor of "Pleasure Sighs" and the beautiful, post-rock frailty of "Stitches" come close. The heavy-charged and vivid emotions of the latter remind me strongly once again of The Walkmen, a band for which comparisons are rare. A minor miscue like "All Day Day Light" and the somewhat extraneous "Sleeping In" aside, Big Echo is a tremendous step forward for a band whose potential has finally caught up to them. Rough Trade Records really struck gold with this one. Thanks to the imminent success of Big Echo, The Morning Benders are bound to be one of the most popular indie-rock acts of 2010. Read more>>>
The Morning Benders – Promises
The Morning Benders – Pleasure Sighs
Official Site / MySpace / BUY
—————————————————————————————————————————————————————–
23. Gold Panda – Lucky Shiner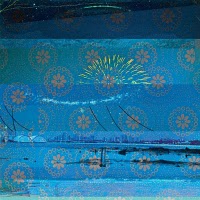 London-based Gold Panda, AKA Derwin Panda, has a fascination for electronic music production. It is the easiest thing in the world to spot on his full-length debut Lucky Shiner, where his fascination has developed into an engrossing accomplishment. His uncle's experience as a producer first led Panda to the world of sampling, where he used his uncle's sampler and likely a bunch of his obscure records as material. "You" is essentially a practice in chopped-up vocal samples, likely drawn from an old soul or hip-hop recording. There is not a whole lot of intricacy, but the appeal is easy to recognize. When the percussion evolves into a stampede-like rush in the final minute over a newly introduced synth line, anticipation for the next "you-you-you" samples is clear. They act more like beeping synth tremolos than anything else. Gold Panda is a dance-friendly instrumentalist with an impressive proficiency for sampling. Similarities to The Field and Four Tet are not hard to spot, especially for the former on "Vanilla Minus" where a clumsily distorted synth becomes gently accompanied by an ethereal pad resembling an angelic choir. The choral note is held for a long period of time, and whether it is a synth sample or an actual vocal sample is impossible to recognize. That holds little importance though, especially when the fluttering synths after the two-minute mark arrive with graceful euphony similar to that of Röyksopp's more delicate works, like the funk 'n' choir sounds of "So Easy". It sounds like music for mythical faeries at a dance club.
Panda has spent some time around Asia, particularly Japan, and some elements (beyond his name) are reflective of that in his music. In addition to solos on "Marriage" and "India Lately", the most obvious use of traditional Asian instruments would be on "Same Dream China", where what sounds like a pipa is one of the few melodic elements – in addition to the bass – that is not chopped-up or significantly toyed with. On "Same Dream China" a flurry of xylophones and keys create a steady pulse reminiscent of Philip Glass, Steve Reich, and other minimalists. Of course, the heavy bass drums that follow are not typical of that ideology at all, but the backing keys are in perennially active throughout the entire track. The sweeping arrangements that come to life over it, from the pipa-sounding plucks to the swollen bass lines, are cohesively implemented with the skills of a tactful producer. Panda is clearly just beginning his career as a surveyor of electronic music, so his direction seems slightly unclear at this point. As far as constants go, there is always minimalism initially present in his work. The fact that expansive, sample-driven arrangements are complementary to them is not surprising in a structural sense, but Panda's melodic tendencies inspire moments of stupefaction where the sounds are just too ravishing to pass up.
MySpace / Soundcloud / BUY
—————————————————————————————————————————————————————–
22. Caribou – Swim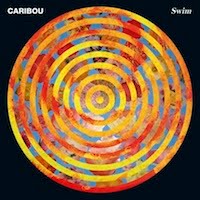 It is difficult to classify Dan Snaith's newest album, Swim, as either a step forward or backwards from its widely acclaimed predecessor, Andorra. Whereas that basked in gorgeous '60 pop with technological additives, Swim takes a more direct approach in its use of electronics – resembling Junior Boys more than an E6 favorite. The album's name alone, Swim, derives from Snaith's desire to give his songs a sort of flexible "flow" not often characteristic in dance music. With a reputation for rigid structures and repetitive loops, dance music does not exactly coincide with the way water flows back and forth unpredictably, but not capricious enough as to prevent instantaneous enjoyment. Snaith has never been a stranger to ambition, so seeing him tackle a new sound on Swim is not all that surprising. Despite this shift, the newest Caribou album still sounds distinctively like Caribou. Snaith's collaboration with Junior Boys' Jeremy Greenspan on Swim is highly indicative of the album's direction, as it seems Greenspan may have even given Snaith a few pointers for adjusting his vocals to a style of production more likened to the electronica of Junior Boys and Kelley Polar. These artists employ rhythmic effects that are somewhat unconventional for contemporary electronic-pop, often ditching cliched components of electronica like auto-tuning and forced flanging for more structurally daring feats. Swim follows in that ideology quite familiarly and Snaith's ceaselessly unique vision creates some very interesting results.
The already-acclaimed "Odessa" captures Snaith's desire for structural viscosity immediately. The bass line here aligns with a repeating sample for little complexity, immediately opening an opportunity for Snaith's usual expansion into gorgeous hooks and/or wild bursts of percussion. The rhythmic constant of bass-and-sample here paves the way for the track's greatest moments, which include the smattering of bell-like percussion, quick swipes of guitar, and trickling of synth arpeggios. None of these moments hit you hard upon first listen, but once the mainstay components of "Odessa" become familiarized these moments are savored and anticipated. The same can be said for the magnificent "Leave House", easily one of the album's most infectious efforts. The flutes here play the same role as the bass and squawking sample in "Odessa", setting up for a chorus so seamless and integrated that its raw infectiousness is somewhat surprising since the actual change in melody is minimal. "Jamelia". Luke LaLonde (Born Ruffians) takes over vocals here, which for casual fans of Caribou may not be immediately evident due to his comparable delivery to Snaith. Clearly the poly-rhythmic and involved textures of the track's chorus are aligned with LaLonde's strengths. When the build-up subsides, his vocals appear more youthful and dynamic than Snaith's, which often sound deadpan in the most complementary and effective of ways. Here though, on this very emotive and atmospherically perfect closer, the extra dose of emotion is necessary. This is more quality from Caribou, even the result is less majestic than Andorra. Read more>>>
Official Site / MySpace / BUY
—————————————————————————————————————————————————————–
21. Avey Tare – Down There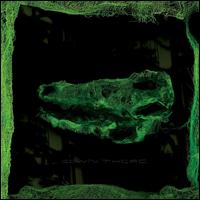 Down There may be the most apt album title of the year. Avey Tare's debut full-length sounds like it was recorded in some submerged swamp, where the croaking of frogs and buzzing of flies is enough to satisfy the percussive urges of Tare – AKA David Portner, best known for his work in Animal Collective. Portner's production on his debut full-length is resourceful yet serene, sparse enough for his voice to tremble with signature passion yet expansive enough to allow for the monumental build-ups that Animal Collective fans are accustomed to. The truth is that Down There was recorded at a church in upstate New York, not some brooding cave that magically lights up in a variety of colors with each accompanying synth arpeggio. That is simply what your imagination will concoct when listening to an album like this, full of sounds and ideas that trigger the most bizarre of images. he album begins with a very low-pitched voice ominously proclaiming "down there!", followed by a scream that sounds like it came from someone or something that just fell into an endless hole of abyss. Through this, it is immediately apparent that Portner is taking this swampily melodic delivery seriously. There is not anything on Down There that resembles the spontaneous screams in "For Reverend Green" or the crunchy loops in "Summertime Clothes". Portner said himself that songs on Down There will not appeal to fans of Animal Collective's "sugary" stuff, like "My Girls". This album's tone is more along the lines of "No More Runnin'" or more appropriately "Bluish", both tracks that contain initial sereneness that is flexible enough to allow for tonal expansion. Some tracks on Down There – particularly "Cemeteries" and "Heads Hammock" – lack the explosive hooks of such past favorites, but they are in the minority here. These "mood" tracks are not particularly dazzling on their own, but in the context of Down There – which finds literally every song transitioning beautifully into the next – they serve an essential purpose.
"Ghost of Books" is absolutely stunning, building up to a frantic combo of trickling keys and dub-like bass where Portner repeats, "I'm so tired of disappearing. You're so beautiful you can't hear me." The final two minutes of this are quite extraordinary, melodically empowering and structurally gripping. "Ghost of Books" does have stiff competition for the album's most impressive effort though. Any of the first three tracks, and later the heartrending "Heather in the Hospital", holds similar worth. The latter contains morbid imagery over some translucent twinkle of keys, reminiscent in a way of Alan Ball's "Six Feet Under". "Machines of modern magic keeping folks above the ground," he sings, before overlapping several vocal cuts to express that "it brings me down." The passion is evident, illustrating the scene at a hospital where the light of day passes through windows to momentarily touch those that are bandaged and on their deathbeds. Down There is not all emotionally heavy, which may be fortunate considering it had the chance to override Portner's blatant melodic tendencies. The exuberantly melodic "Oliver Twist" is more Animal Collective-like with its warbly vocals and heavy synth pads, which provide a beautiful arrangement that carries the synth stabs to a vibrant percussive accompaniment.
"3 Umbrellas" is the most straightforward and Caribbean-influenced song on Down There. The echoey Afro-pop and repeating structure make it perhaps the album's most conventional track. plays like a very well-crafted album that should allow listeners to appreciate Portner's additions to Animal Collective's vast catalog even more. Personally, I believe there are some tracks on here that overshadow recent Panda Bear solo tracks by a wide margin. There is little reason to compare though, as both artists remain required listening nonetheless. Read more>>>