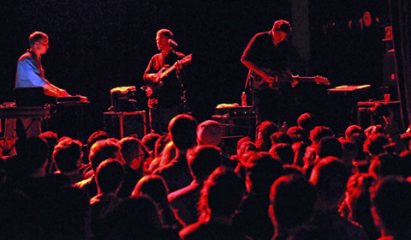 In the midst of the year-end features, I did not have enough time to express my praise for The Radio Dept.'s live performance on December 1st at The Bowery. Venturing from their native Sweden is somewhat of a rare occasion for the trio, so I made sure to mark the date when the show was announced. The band should be no secret to readers of the site after a review of Clinging to a Scheme and its eventual inclusion at #12 on the Top Albums of '10. Still, they remain somewhat overlooked despite an extremely dedicated fan base. The precise opposite of attention whores, The Radio Dept. are famously shy and soft-spoken, traits distinctive enough to overlap into even their most ferocious songs. The shoegaze-heavy tone of debut full-length Lesser Matters featured frontman Johan Duncanson's soft-spoken vocals and heavy layers of caressing guitars and keys, while follow-up Pet Grief retained the elegant beauty of the debut with more emphasis on electronica and dream-pop.
I already wrote plenty on Clinging to a Scheme and its role as the completion point for which Pet Grief aimed. Flourishes of electro-pop are most abundant, with elements of hip-hop (like the percussively complementary synth stabs in "Never Follow Suit" and "David") even holding their own. Calling The Radio Dept. a shoegaze act would be anachronistic at this point though; that genre's influence was hardly utilized on Clinging to a Scheme. As their show at the Bowery Ballroom last month proved though, the stylistic subtractions and additions the band has undertaken the past several years is not cohesively detrimental to their live performance. Last month, fan favorite and shoegaze-heavy "Freddie and the Trojan Horse" transitioned flawlessly into delicate electro-pop ballad "The Worst Taste in Music", which then paved the way for an equally proper lead-in to Clinging to a Scheme standouts "This Time Around" and "Never Follow Suit". When surprising closer "City Limit" followed after that, it provided a finale that proved The Radio Dept. as fearless in exploring new ideas and abandoning older stale ones. The band claims to be shy on stage, but you would never know it.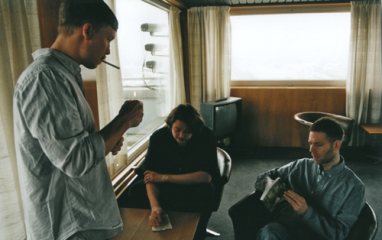 The Radio Dept.'s discography does not contain one blemish at this point. Their stylistic evolution is just that – evolving styles, rather than abruptly transitioning to something through desperation after a failure. Each of their full-lengths is distinctive Radio Dept., as Duncanson lovingly rarely alters his delivery or tendency for hooks, and this is precisely why no fan would express dismay if their next album sounded like Lesser Matters, Pet Grief, Clinging to a Scheme, or all three combined. Duncanson explained recently to NY Press: "We just want to create something strong, meaningful and different–something that matters to us." So far, they have accomplished this with each of their releases, even if the styles contrast with one another. One thing will remain constant though: that The Radio Dept. will continue churning out great pop music for years to come, without the selfish or fame-driven ideology that many contemporary artists succumb to.
2011 looks to be another exciting year for the band. After releasing the Never Follow Suit EP a few months ago, they have announced a new tour (!!) and best-of compilation. The latter, entitled Passive Aggressive: Singles 2002–2010, will be released on January 25th. It features two discs and 28 tracks, the first disc comprising of well-known tracks and the second detailing their best b-sides. Glancing at the track listing, it seems to play well. Hardly a surprise when your track record is as strong as The Radio Dept.'s. Tour dates below:
02/01 – Washington, D.C. @ Rock N Roll Hotel
02/03 – New York, NY @ Webster Hall
02/04 – Boston, MA @ Middle East Downstairs
02/05 – Montreal, QC @ Petit Campus
02/07 – Toronto, ON @ Lee's Palace
02/08 – Chicago, IL @ Empty Bottle
02/09 – Minneapolis, MN @ 7th Street Entry
02/12 – Seattle, WA @ Crocodile Café
02/13 – Portland, OR @ Doug Fir Lounge
02/14 – Sacramento, CA @ Luigis
02/15 – San Francisco, CA @ The Independent
02/16 – Los Angeles, CA @ El Rey Theatre
02/19 – Mexico City, MX @ Teatro de la Ciudad
The Radio Dept. – Never Follow Suit
The Radio Dept. – The Worst Taste In Music
The Radio Dept. – Freddie and the Trojan Horse
The Radio Dept. – It's Been Eight Years
Official Site / MySpace / BUY
Top photo courtesy of Chris Becker.