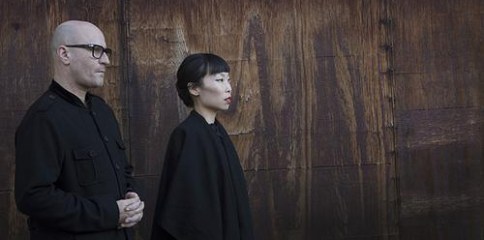 I am accustomed to quality material from Twentyseven Media. The NYC-based label broke out local bands like The Drums and This Is Ivy League, exposed underrated Swedish gems (Acid House Kings, Irene, Pelle Carlberg) to American audiences, and are headed by people who are music fans first and foremost. If founder Clyde Erwin Barretto focused full-time on compiling music recommendations through a personal blog, it would be quite popular simply because of his knack for discovering artists with lofty potential. Their latest discovery is a duo by the name of Silver Swans, a San Francisco-based project starring Ann Yu and Jon Waters. Like most artists past and present on Twentyseven, their material is extremely accessible despite a sound contrary to conventional radio pop. With graceful electronic-pop artists like Portishead and Ladytron showing off as influences, Silver Swans produce sounds detailing a perfect fusion of both members. Waters' experience as a producer and DJ is prominent on Silver Swans' impressive Secrets EP, as are Yu's melodic charms. They are the same charms that earned her openings alongside acts like The Radio Dept., Mates of State, and Jose Gonzales throughout her various projects.
Lead single "Secrets" begins with Yu's ghostly croon assembling itself over a post-punk guitar progression, which reverberates in a way reminiscent of late '80s/early '90s indie-rock acts. The intro has no evident boundaries until some crisp drum loops and synth-bass establish it with an authoritative electro-pop swagger. This stylistic reveal arrives with little surprise considering Yu's vocal strengths, which like Portishead's Beth Gibbons feature a tendency to turn minimal key-driven arrangements into grandiose hooks with her impeccable tonal development. Yu's voice nearly sounds like a shiver in the intro when only accompanied by the percussion, guitar, and synth-bass. As she opens with "are you happy? I know you shiver like a stone", it is clear that her vocals contain an almost ethereal child-like quality that some modern punk-rock bands view as the golden goose egg. Fortunately for our ears, both Yu and Waters specialize in electronic hybrids of pop, not melodramatic nonsense for MTV audiences. Their songs contain just the right amount of subtle confidence and production chops to sound original, resulting in a smart mix of electro-pop and indie-rock that remains polished without being overly glamorized; Waters' production does not disrupt the naturalistic flow of their music, preventing any songs from sounding stiff or over-produced. Such is the work of an experienced DJ/producer.
The hazy synth line in the gradually appearing chorus of "Secrets" is subdued yet melodic, resembling Sally Shapiro's acclaimed takes on italo-disco with Yu's sweet-as-sugar vocals coating the elegant synths that eventually dominate melodically without taking over the production. Again, Silver Swans are not going to blow your socks off with anthemic bluster. But like most electronic-pop acts that have aged well, like Portishead and Massive Attack, their music resonates enough to haunt listeners in the best way possible. They also make the type of music that results in great remixes; there are already interesting remixes of "Secrets" (by Letting Up Despite Great Faults) and "Best Friend in Love" (by Bachelors of Science). Another Silver Swans highlight, "Holidays", will likely get similar treatment. Jingle bells? Check. Breezy, gospel-like vocal harmonies? Check again. Add to these a bubbly synth-bass and percussive pitter-patter and you have another Shapiro-like take on electro-pop and italo-disco. Perfect for future remixes and pretty damn good on its own too. It has a fun factor inherent in a lot of Swedish electronic-pop, so it is hardly a surprise why this appealed to Twentyseven Media. The hook – "I only dance when it's the holidays" – adds that essential dose of melancholy-over-upbeat-music trend that Swedes seem to do so well.
Also to note is Silver Swans' cover of The National's "Anyone's Ghost", one of the best tracks from one of last year's best albums, High Violet (#11 on my Top 50). The brooding bass line is hardly different from The National's unbeatable original, but Waters' use of eerie synths in the background really adds to the heartrending allure of the song. The synth-strings during the chorus are minimal but affecting as well, as is the push of percussion during the verse's second go-around. Here the chorus repeats like before, but now the additional percussion breathes new life into an already moving interpretation. It is interesting to note that Yu's angelic voice is nearly the opposite of Matt Berninger's solemnly poignant croon, so that she carries over the emotion from the original successfully is a major achievement and demonstration of her dynamic range. It is a great job by Silver Swans, even if they would admit themselves that covering a great song like "Anyone's Ghost" is pretty much a win-win for any competent group. With inventively catchy and memorable songs like "Secrets" and "Holidays" though, there is certainly no questioning Silver Swans' originality and promising future. More of the same from Twentyseven.
RIYL: Portishead, Sally Shapiro, Ladytron, The Knife, Massive Attack, Francis International Airport, maus haus, La Sera, Lamb, Hooverphonic, Archive, Bjork, Morcheeba, UNKLE
Silver Swans – Anyone's Ghost (The National cover)