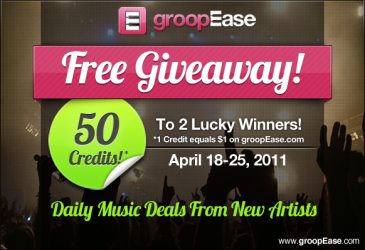 THIS CONTEST IS NOW CLOSED.
I wrote in depth about the excellent start-up GroopEase last week, noting it as a great way to find new music and support the artists at a discounted rate (with a portion going to charity). Now we're going to hold a contest, where you can be just as supportive for FREE. They're essentially giving out $100 worth of credits that will enable two winners on this site to purchase excellent new music, much of which is available exclusively on Groopease at a discounted rate. The winners get $50 each, and considering most albums on Groopease run in the $5 range, the prize will have quite the lifespan.
Entering is simple. Register for Groopease here (which is free), and then reply to this post with the response to the following: On Obscure Sound's "Best of March 2011" compilation, which song did you enjoy the most and why?
Just make sure to register on GroopEase first, and then in the comment field below make sure to give your VALID e-mail. This is how I will be reaching you if you win, so if you provide a non-working e-mail there will be no way for you to claim your $50 credit. The contest ends on April 25th. Then I will select the two winners.
To get $50 in credit to purchase great music, all you have to do is a sign up and post a comment below. Sounds worth it to me. Best of luck!