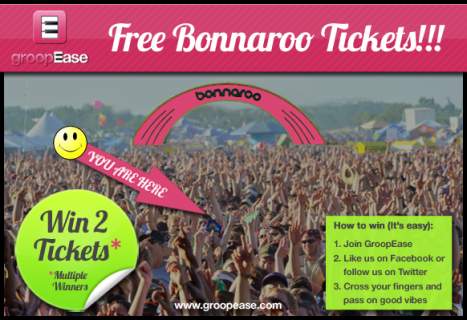 The good folks over at GroopEase just love being generous. In addition to offering significant discounts on up-and-coming artists, they are now giving away two three-day passes to Bonnaroo for free. That's right… two tickets to one of the best music fests in the world for FREE! The festival takes place June 9th to 12th in Manchester Tennessee, and features a bunch of amazing acts. Headliners include Arcade Fire, Neil Young, The Strokes, Dr. John, My Morning Jacket, and MANY others. Need I say more? Well, if you want to see more, you can check out the entire roster here. It's hard for any music fan to be disappointed with that lineup.
Now, considering each three-day pass is valued at $550 per pair, you would expect to have to write work hard to enter, right? Actually, no. There are no expenses involved either. You simply have to do these two things:
-Sign up for GroopEase (which is free) by clicking HERE.
-Head on over to GroopEase's Facebook page and 'Like' the page HERE.
Two steps. That's it. All new GroopEase members and Facebook fans are automatically entered. Registration to GroopEase is invite-only, but Obscure Sound readers have the special opportunity of using my invite code. So simply click the link above and you'll be taken to the registration page. No strings attached.
Those that are already members of GroopEase had their own Bonnaroo sweepstakes last week, so I hope some of you lucked out with that. For now, this contest is limited to those that haven't signed up to GroopEase yet. I pretty much summed it up, but you can check out the detailed rules here.
This is only the first of many contests that will give away tickets to some of the best music events in the world. GroopEase is quickly expanding beyond offering songs. Merchandise and tickets apppear to be on their way shortly, so now's the time to join.
Contest closes on May 24th. Good luck!