Posted
June 20, 2011 by Tim Osbourne
in Features
Fenech-Soler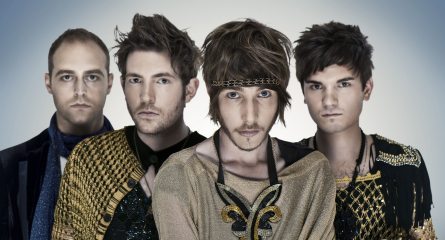 Barely a day passes without another mash-up band hitting the scene. The past decade's emergence of various genres and styles of music being combined to create new sounds is not particularly new, and is rarely executed in any kind of stylish manner.
But Fenech-Soler are one in a line of acts taking influence from indie, electronica, pop, and rock music to create something new and innovative with spectacular commercial and artistic success. Fenech-Soler's electronic and dance influences have made their tracks a staple in the rise of so-called "indie discos", where DJs have been furiously creating club remixes to indie tracks in an effort to invigorate the floor.
The all-male four-piece rocketed to fame last year with two tracks, "Lies" and "Demons". Both have racked up nearly one million YouTube views combined, so it's safe to say the UK quartet is steadily growing in popularity. Their digital presence spawned a self-titled album later in the year – leading to, of course, an excess of trance, dubstep, hip-hop and DNB remixes. Fenech-Soler are giving away a few of these remixes on their site, as well as an acoustic session they performed earlier in the year called the White Versions EP.
Now, they're back with the release of "Stop and Stare". It's a near-ambient arrangement of lyrics set against a gritty electronica backdrop, all accompanied by a stylish low-light video. Fenech-Soler are now lined up to play a whole line of festivals, though were forced to take a short hiatus from gigging recently as Ben, lead singer of the band, was treated for testicular cancer. Thankfully he reports that the treatment was 100% effective and they will be back on the road shortly, just in time to play some great UK festivals, which include Glastonbury, Blissfields, Oxegen, Camp Bestival and LeeFest, among others.
RIYL: Daft Punk, Arctic Monkeys, Miami Horror, Friendly Fires, Ou Est Le Swimming Pool, Delphic, MGMT, Cut Copy, Midnight Juggernauts, Van She, Monarchy
Fenech-Soler – Demons (Sigma Remix)
Fenech-Soler – Stop & Stare (acoustic)
Fenech Soler – Lies (WolfChild Remix)
Fenech-Soler – Fenech-Soler [CD]
Fenech Soler – Deamons (Christian Sonderfeld remix)

Official Site / MySpace / BUY