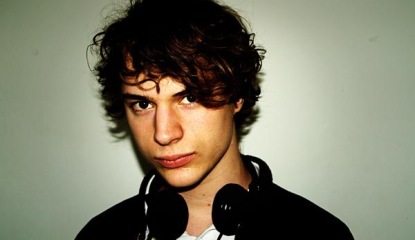 The wonderfully named Jethro Fox, originally born in Essex but now based in Liverpool, is creating a sound influenced by '60s pop, nostalgic both in terms of its content and product values.
Fox's sound is unashamedly fused with bouncing beats and Beach Boys-esque guitar twanging. It's a sound that was carved whilst working on his latest EP in Manchester, listening to the Rolling Stones, The Hollies, Roy Orbison and Gerry and the Pacemakers among others. He previously worked as the guitarist and co-writer in a number of bands (Street Light Youth, Journals, The Slowdown) and is currently occupying such a position in bands like Carnival Kids, Anna Lena & the Orchids and Evelyn Burke. He only first began pursuing his own solo venture this past spring. The outcome so far is very interesting, on par with recent '60s-tinged successes like Grizzly Bear, Cass McCombs, and Dr. Dog.
The recently released Blinding Light EP was mastered by Robin Schmidt and Jethro has already released two tracks from the excellent release, "I Never Knew Her Name" and "Blinding Light". The latter is also accompanied by a video of Fox performing in front of multiple projected vintage videos, a simple formula that compliments his style perfectly. All of the tracks on the EP were put to tape before being mastered to help to replicate a more traditional analogue sound. This is coupled with tape echoes and spring reverbs added during the recording process.
Fox is continuing to tour with other bands which he's involved with but is planning several gigs for October and November currently with more releases expected then.
RIYL: Cass McCombs, The Beach Boys, Grizzly Bear, Delta Spirit, Fuirt Bats, The Morning Benders, Surfer Blood, Dawes, Bill Callahan, Kurt Vile, Julian Lynch, Papercuts, Destroyer
Jethro Fox – Never Knew Her Name

Anna Lena and the Orchids – Child (Remix by Jethro Fox)