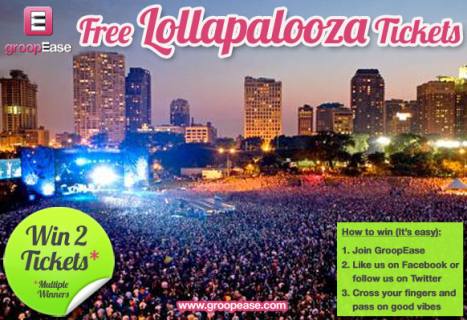 GroopEase is giving away a pair of weekend passes to Lollapalooza and $500 to two winners.  All current and new GroopEase members are eligible to win, so if you haven't joined yet then do so for free here. If you joined already, then all you have to do is "like" this Facebook page or "follow" this Twitter.  The sweepstakes started yesterday and runs through July 26th.
What you're joining is a great program that features under-exposed independent artists, much like this site. GroopEase showcases "Groops of the Day" with absurd discounts on their albums. One free download is always included as well. If that wasn't enough, a portion of every album sale goes to charity. I'm so enthusiastic about it for several reasons. One is that it provides under-exposed artists with immediate exposure, making it a great concept for musicians and listeners alike. I also lend a hand in selecting which artists are featured on GroopEase, so if you enjoy the bands I feature on Obscure Sound then I guarantee you'll enjoy several on GroopEase.
Prizes: The following prize will be awarded to each of the two (2) winners: Two (2) tickets to Lollapalooza 2011 (Regular 3-day Pass) and $500 cash. That means there will be two winners, and each will get to bring a friend. Oh yeah, and both winners get $500 cash. That should certainly help with lodging/food/fun.
The total approximate retail value of each prize is $950. Worth it? I'd say so, especially when it only takes a few clicks to join.