Merriweather Post Pavillion was this site's #1 album of 2009. It was also the least disputed #1 in the five years I've been writing the Top 50. It seemed to be a foregone conclusion that MPP would be at the top, with many music publications – from small-time blogs to Pitchfork – declaring it as 2009's best. With its release, even those who never found a liking for Animal Collective's music began to recognize their importance in '00s music; they are one of the few groups that will be remembered years from now as an important part of the past decade's musical legacy. Whether or not that decade even warrants a worthwhile legacy is up to subjective interpretation, but one would be hard-pressed to deny the creativity and idiosyncrasy prevalent in Animal Collective's whirlwind of experimental pop. Even as MPP was the farthest thing from "experimental" the group has done, it seemed to find the perfect meshing point between alluring experimentation and hook-friendly accessibility.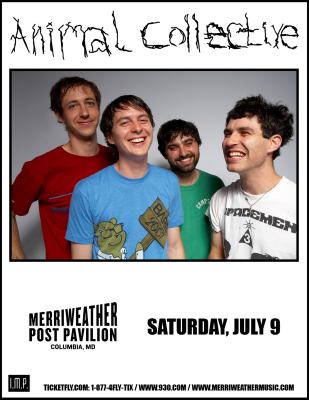 Animal Collective's show this upcoming Saturday is at Merriweather Post Pavillion, the venue their most popular album was named after. Even beyond the interesting name-based synchronization, it also marks what has become somewhat of a rare occasion. With many members pursuing very worthwhile solo projects (both Avey Tare and Panda Bear released good albums in the past year), the band was pushed aside for a bit. But they're back in full swing now, prepping their new album and touring. They have mostly traversed the festival circuits as of late, but this Saturday's show is one in a recent string of venue shows.
The band no longer plays in small venues like the past, but you can expect their recent performances to match the grandiosity of venues like Merriweather Post Pavillion.
Obscure Sound is lucky enough to offer up a pair of tickets to one lucky reader. Since this is targeted mainly to the Maryland/DC area, I suggest you enter since the pool will not be dauntingly large. You'll have a fairly good chance of winning a ticket for you and one of your friends. The tickets are lawn seats.
The winner will be notified shortly after submissions close, on Friday at 1AM ET. Their tickets will be waiting for them at will call. So with that in mind, I need your name upon submission to be your FIRST AND LAST NAME.
Entering is easy. Just scroll down to the comments field below and type the answer to this question: "What is your favorite Animal Collective release and why?"
Remember to use your real e-mail and full name, so I can contact you and register the tickets in your name. Remember that NO ONE will ever see your e-mail apart from me, so your privacy is guaranteed.
Best of luck! It's bound to be an amazing show.
SUBMISSIONS ARE CLOSED AND A WINNER HAS BEEN CHOSEN. THANKS FOR PARTICIPATING! LOOK FOR MORE CONTESTS SHORTLY.
Animal Collective – Brothersport
Official Site / Venue / BUY